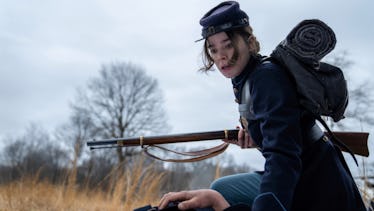 The Dickinson Season 3 Trailer Teases A Poetic Ending For Emily
I am living for that flash-forward to the future.
Apple TV+
When Apple TV+ arrived in November of 2019, Hailee Steinfeld's Dickinson almost immediately developed a loyal following (beyond the one she already had). By the time Apple TV+ had settled in, it had become the streamer's first word-of-mouth hit. Luckily, producers took advantage of its early Season 2 renewal and finished filming the second season before the Hollywood shutdowns of 2020, making it the only Season 2 of Apple TV+'s four original shows to arrive relatively on time in January of 2021. By that time, Dickinson Season 3 was already greenlit. Here's everything we know about the third season's premiere date, cast, and more.
Dickinson Season 1 used up nearly all of the source material the series had going into the project. Emily Dickinson's life wasn't very long, and she spent most of it tucked away in her parents' attic. There's very little known about her life, especially once her brother got married and moved out. That gave the series license to fictionalize why Emily wound up never becoming famous while she was alive, especially when fame did come creeping to her door at least enough to publish 10 of her poems over her lifetime.
Season 2 ended in a way few expected, diving into the rumored relationship between Emily and her brother's wife, Sue Gilbert, and making the supposedly unspoken passion between the, very spoken. With Season 3 running up on the American Civil War and Dickinson's final years, fans have many questions about where the show will go in its last episodes.
Dickinson Seasons 1 and 2 are streaming now on Apple TV+.
This article was originally published on