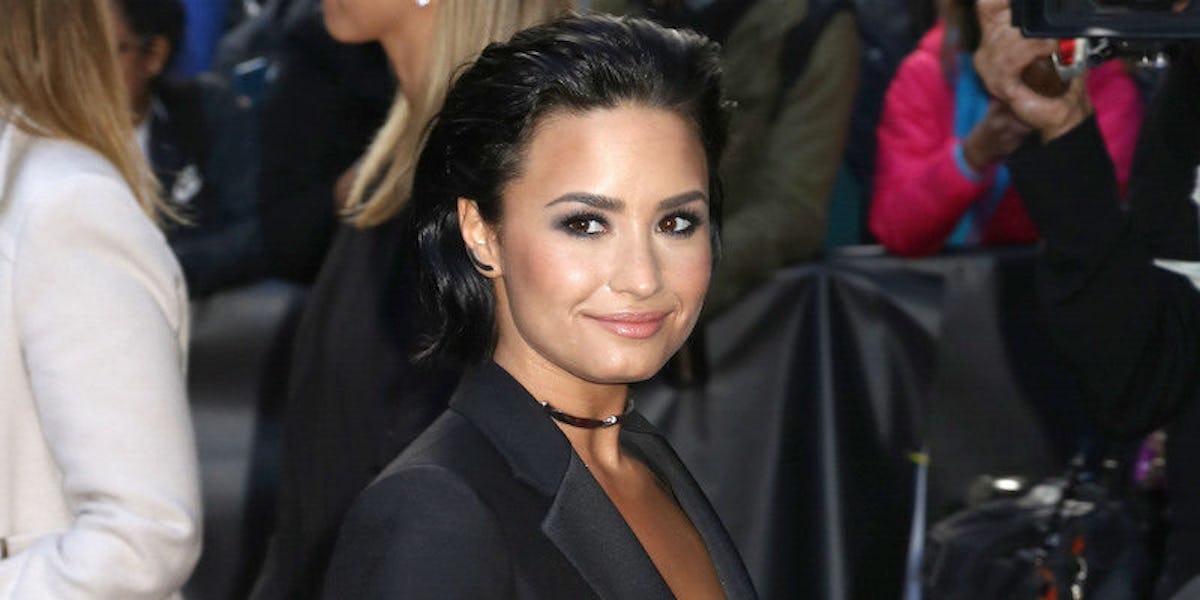 Demi Lovato Pays Tribute To Great-Grandmother Who Died With Touching Post
Shutterstock
While most of us were barbecuing and listening to our one douchey cousin demand people "beer him" all weekend long, Demi Lovato was forced to bid farewell to her 93-year-old great-grandmother, who passed away Monday morning.
The "Stone Cold" singer shared a photo of herself beside Mimaw on Instagram yesterday, in a post dedicated to "the world's most special woman."
The 23-year-old wrote,
I miss her more than words can even describe. There is an emptiness in my heart that only her spirit can fill and I pray that I will feel her by my side every single day until we meet again. I attribute my strength to her… She was my great-grandmother but we were so close that I never knew it was possible that anyone could have the bond that we shared even 70 years a part [sic]… The pain I feel is almost unbearable but because of her strength I will power through it.
Demi also shared a collage on Insta of Mimaw pics, including many of the pair holding hands.
She captioned the photo with a single broken heart emoji.
She thanked Lovatics for their love, prayers and fan art, claiming their support "has been empowering and so special."
Fans and fellow celebs reached out to the singer on Twitter to express their condolences.
God bless your Mimaw, Demi. Glad you had her in your life. We all love you. RT @ddlovato: pic.twitter.com/cwg0HTVtS6 — Brad Paisley (@BradPaisley) May 30, 2016
R.i.p Demi's mimaw, we all love you and you're in a more peaceful place now. pic.twitter.com/Yd4EwMrj2p — daniel lovato (@danielslovato) May 30, 2016
The relationship Demi had with her mimaw was so special, can't imagine what Demi must be going through rn #RIPMimaw pic.twitter.com/XLk9YMoJJm — 1D SҽℓDemί ѕtαη✧ (@tomlinmunchh) May 29, 2016
#Mimaw Rest In Peace @ddlovato Demi I know this hard for you now we all know you can stay strong!pic.twitter.com/mSNiz1kbbC — S.H.A.R.O.N 7/27 (@SParoisse) May 29, 2016
We've all seen how much @ddlovato's Mimaw means to her.. Sending love, strength and prayers to Demi and her family pic.twitter.com/zDfp1QcGBB — (@bowmetriaedits) May 28, 2016
Our thoughts are with Demi and her family during their time of loss.
Citations: Demi Lovato Shares a Heartbreaking Message About the Death of Her Great-Grandmother (POPSUGAR)