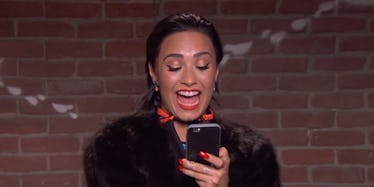 It's Demi Lovato And One Direction's Turn To Read 'Mean Tweets'
"MEAN TWEETS" IS BACK! "MEAN TWEETS" IS BACK! BRING THE CELEBRITIES DOWN TO MY LEVEL!
Famous people might have looks, money, fulfilling careers, sex with other famous people and Helen Hunt's phone number, but we normals all have the power to insult them, making them feel like the gutter rats we are, even if just for a moment.
The "Jimmy Kimmel Live!" tradition of celebrities reading mean tweets gives the angriest among us shoutouts in the name of jealousy and misdirected rage, and this time around, Demi Lovato, Kelly Clarkson, Meghan Trainor and the king of velvety folk rock and impeccable live recordings, James Taylor, got dumped on.
Poor Ricky Martin was forced to call himself "icky fartin" in a segment that was hopefully cathartic for the people incensed enough to write all these tweets.
Thank you, superstars. We nobodies needed this.
For Elite Daily's "Angry Comments," watch here: