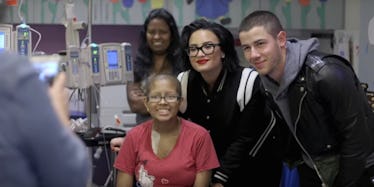 Nick Jonas And Demi Lovato Surprised Kids In The Hospital With A Concert
YouTube
Demi Lovato and Nick Jonas keep on crushin' it with the positive karma.
If there is one thing Demi and Nick are good at, it's staying away from negative press. Sure, occasionally Demi goes on weird rants against Taylor Swift, and Nick's dated anything with two legs and a pulse on the West Coast, but who hasn't?
It's Hollywood! Everyone does both of those things before they leave for work every morning.
The duo took some time off to stop by Children's Hospital Los Angeles this week in support of #MakeMarchMatter, a campaign to raise awareness for Children's Health Month, and their visit was adorable.
You can watch them visit with the children and give a mini concert in the video above.