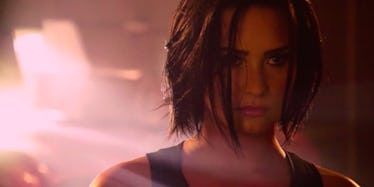 Demi Lovato Is Seriously Badass In Her New 'Confident' Music Video
Lovatics, listen up.
If you love Demi Lovato as much as I do, you've probably been refreshing her Twitter feed every two seconds to find live updates of her new music video for "Confident."
This past month, she's been torturing us with little clips like this.
But I need more, Demi. I NEED MORE.
Don't worry, the day finally arrived. It's officially October 9, so that means WE GET TO SEE THE FULL MUSIC VIDEO FOR "CONFIDENT"!
Marriott Rewards kindly shared the video, and let me just say, it's badass AF.
Demi literally punches people in the face, escapes the bad guys and fights like a goddamn warrior. Sorry Taylor, Demi doesn't need to join your squad because she can kick some major ass on her own.
You can click on the link provided in the tweet below to watch the full video.
Demi, you're my hero. If you need another sidekick or just someone to ice your burn, call me.
Citations: Demi Lovato's Sexy, Action-Packed Video for "Confident" Is Here (Cosmopolitan)