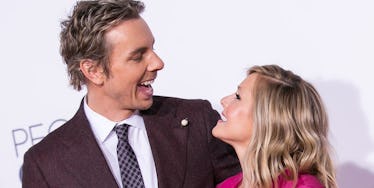 Dax Shepard Just Said The Cutest Thing About Working With Wife Kristen Bell
REX/ Shutterstock
Kristen Bell and Dax Shepard are one of my favorite happy Hollywood couples, and somehow, they just keep getting happier.
Case in point? Now, they're adorably voice acting in a children's show together.
In an interview with People magazine, Kristen and Dax revealed they will both be voices of animated trucks in the new show, "Terrific Trucks," on NBC's kids' network, Sprout.
They will probably watch the show together as a family, with their two daughters: Lincoln, 3 years, and Delta, 18 months.
THIS IS TOO CUTE FOR ME TO HANDLE.
Dax told People that acting with Kristen is one of his "favorite ways to spend time together," even though he was intimidated by his wife's experience and talent.
He said,
She's a 10 right out of the gate. So, she does her thing perfectly the first time around — and then I do about 12 [takes] before we find one that's good.
Kristen, on the other hand, admitted it's kind of fun to have the upper hand when she works with her husband.
She said,
I rarely work in a playing field where I have a leg up over him because he's a really good writer/director/actor, and I'm just a decent actor. I'm a passable actor. So it was great to see him be a little hesitant and look to me and be like: 'Did I do that right?' … It was nice to see his confidence waver ever so slightly to remind me that he's human and not perfect and good at everything!
Nothing like some healthy competition to keep a relationship interesting, am I right?
Citations: Kristen Bell and Dax Shepard on Voicing New Kids TV Show: 'It's One of Our Favorite Ways to Spend Time Together' (People)