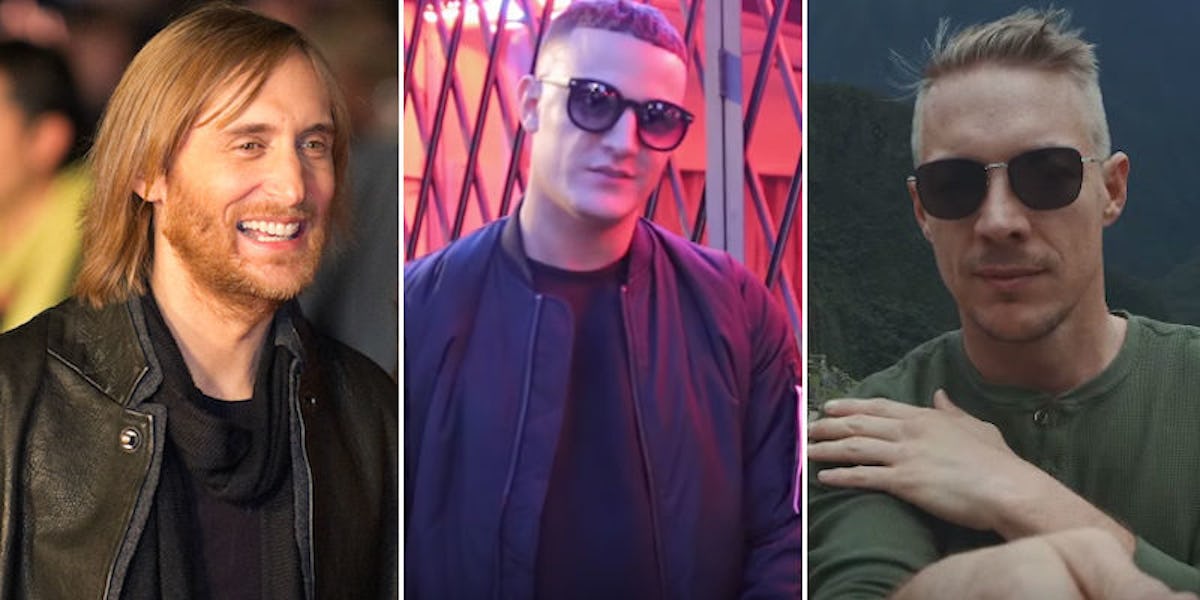 Diplo And DJ Snake Just Accused David Guetta Of Copying Their Song
Shutterstock/ YouTube
Don't steal from Diplo and DJ Snake unless you're willing to get roasted on Twitter like the cartoon corn cob you are.
The pair noticed some major similarities between their monster hit "Lean On," featuring MØ, and David Guetta's new Euro 2016 soccer anthem "This One's For You," featuring Zara Larsson.
DJ Snake called Guetta out on Twitter and referred to the French EDM vet's song as "Fake 'Lean On.'"
In another tweet, which has been deleted, DJ Snake reportedly shared a photo of a giant dildo stuck to a poster of Guetta's face.
Diplo, aka the only blonde man for which the writer of this article has ever harbored sexual feelings (and whom the writer is, therefore, inclined to stand behind on this issue, based on blind faith and that thirsty thirst), backed up his collaborator with since-deleted tweets that refer to Guetta with the corn emoji.
He reportedly added,
U right @djsnake I hope the kids realize we always try to innovate and it's easy for @davidguetta to do whatever Ina quest 4 relevancy.
The Major Lazer co-founder warned Guetta "can't rip [them] off and go unnoticed" due to the intimate number of mainstream EDM DJs.
Diplo also admitted to having respect for his elders but no respect for creative thievery.
I respect my elders but when they straight jack us its clap back season - that is all — dip (@diplo) May 12, 2016
And It's hard to be my elder cuz I'm old af — dip (@diplo) May 12, 2016
Still would.
Guetta has yet to respond to the allegations, but feel free to compare the songs yourself.
Citations: DJ Snake, Diplo Slam David Guetta for 'Fake' Version of 'Lean On' (Billboard)