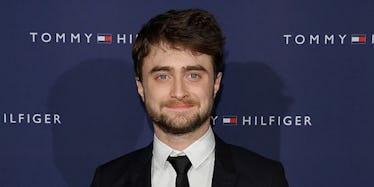 Daniel Radcliffe Is Starring In A New Fantasy TV Series, But Not As A Wizard
Getty
Harry Potter is trading in his wand for some wings!
Daniel Radcliffe is officially headed to American TV screens next year in a brand new fantasy series, in which he'll star as an angel.
The new show is a TBS comedy series called "Miracle Workers," a workplace comedy set in Heaven that will star Radcliffe as a low-level angel named Craig who is tasked with handling people's prayers, according to Deadline.
It will co-star Owen Wilson as Craig's boss, God.
Yep: Daniel Radcliffe as an angel and Owen Wilson as God. That is a thing that's happening.
And it's safe to expect "Miracle Workers" will get pretty zany with its humor because it's being executive produced by "SNL" creator Lorne Michaels and it is created by Simon Rich, the man behind FX's eccentric comedy series "Man Seeking Woman."
Since Daniel Radcliffe is best known for starring in movies and appearing on the stage, helming a cable sitcom is an interesting move for him.
He's made guest appearances on a few TV shows before, but his only starring role on TV before now was in the UK miniseries "A Young Doctor's Notebook." This will mark his first lead role in an American TV show.
This will also be the first main TV role for Owen Wilson. Best known as a movie star, Wilson has popped up in episodes of comedies like "Community" and "Drunk History" in the past but has kept his major projects to the big screen.
It will definitely be interesting to see how Radcliffe and Wilson both fare in a format that's totally new to both of them, especially with a religion-tinged show premise that could stir up controversy pretty easily depending on how it's handled.
Still, since both Radcliffe and Wilson have proven their comedic chops time and again in their films, and they'll have old pro Lorne Michaels to guide them, I'm pretty sure they'll be just fine!
"Miracle Workers" will premiere seven episodes in 2018 on TBS.
Citations: Daniel Radcliffe & Owen Wilson To Star In TBS Anthology Comedy 'Miracle Workers' From EP Lorne Michaels (Deadline)