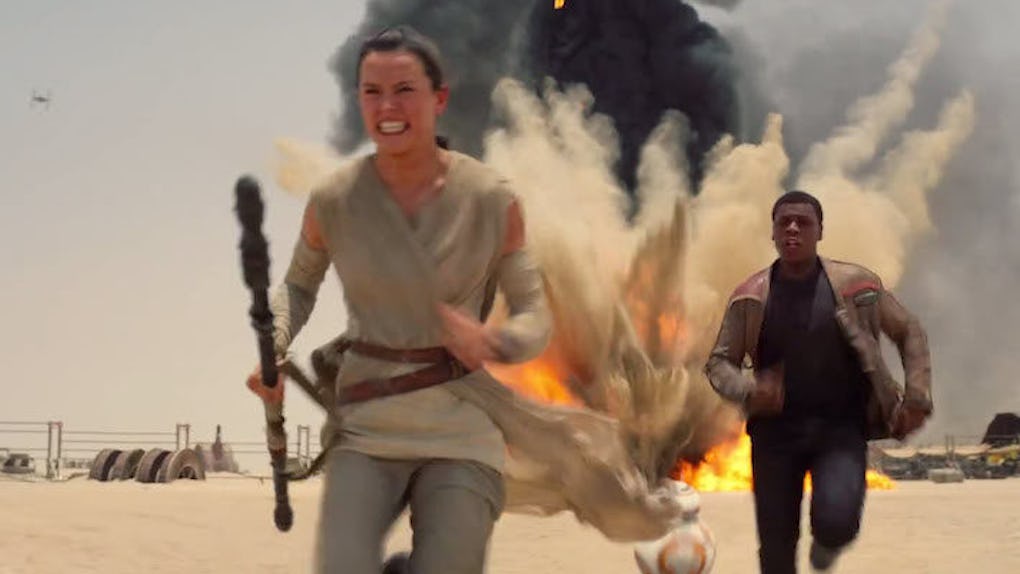 Walt Disney Studios Motion Pictures
This Dad's Theory About 'Star Wars: The Force Awakens' Will Blow Your Mind
The Force is strong with this "Star Wars" fan theory.
Before we get started, I'm giving you a heads up, there are major spoilers ahead. So, if you are one of the 18 people on this planet who hasn't seen "The Force Awakens" yet, now is your chance to turn away before you have the movie ruined for you.
Are those late-to-the-game losers gone yet? Good. Wait, one is still here? Dude! Leave! Ugh, fine, sorry for saying that stuff about you being a loser.
Is he gone? OK, good. Such a loser.
Anyway, let's talk Jedi turkey.
A pretty convincing theory about Kylo Ren's actual anti-Dark Side motives posted to Tumblr is getting some major traction online today.
Tumblr user MurphCooper (an homage to that girl who turned into Jessica Chastain in "Insterstellar") says her father came up with the theory that Kylo Ren, that evil Jedi employed by the First Order and played by Adam Driver, isn't actually evil at all.
In fact, Murph's dad thinks his whole reason for being on the Dark Side is just so he could eventually take down the giant space Voldemort, Snoke. *Mind Explosion*
She writes,
THATS WHY HE'S SO CONFLICTED, AND THATS WHY HE FEELS THE TEMPTATION OF THE LIGHT SIDE STRONGER THAN THE DARK!!!!! THATS WHY HE TALKS TO VADER'S HELMET, BECAUSE HE IS GONNA FINISH WHAT ANAKIN, THE CHOSEN ONE, STARTED!!! HE HAD TO COMPLETELY TURN AWAY FROM HIS FAMILY IN ORDER TO DO THAT! TO BECOME A SITH FULLY AND COMPLETELY YOU HAVE TO SACRIFICE SOMEONE YOU LOVE TO DEATH, IN HIS CASE IT WAS HAN!
I'm listening...
THATS WHY HE TELLS HAN HE FEELS LIKE HE'S BEING TORN APART INSIDE, BECAUSE HE DOESN'T WANT TO DO IT AT ALL, BUT IT'S THE ONLY POSSIBLE WAY TO BECOME A SITH AND COMPLETE HIS TASK!!!!! KYLO LITERALLY UTTER THE WORDS 'WILL YOU HELP ME' TO HAN, AND HAN SAYS 'ANYTHING YOU NEED' (OR SOMETHING LIKE THAT I CANT REMEMBER)! WHAT HE'S ASKING IS IF HAN WILL DIE IN ORDER FOR HIM TO COMPLETE HIS F*CKING TASK THATS WHY IT LOOKED LIKE HE KNEW WHO REY WAS, BECAUSE HE NEEDS TO PROTECT HER THATS WHY HE OFFERS HER TO BE HER TEACHER, HE NEEDS SOMEONE AS POWERFUL AS REY IT'LL BE LITERALLY THE DARK SIDE AND THE LIGHT SIDE JOINING UP TO DEFEAT ONE ENEMY TOGETHER AS ONE, WHICH IS BASICALLY WHAT THE FORCE IS.
I don't know, I could use more exclamation marks...
THEY LIVE SIDE BY SIDE IN IT THATS WHY HE'S SO CONFLICTED ALL THE TIME, THATS WHY HIS FIGHT STYLE ISNT LIKE A SITH'S AT ALL!!!!!!!!!!! THEY ARE ALWAYS SAYING THAT THE DARK SIDE AND THE LIGHT ARE TOGETHER IN THE FORCE THEY NEED THE PERSONIFICATION OF BOTH SIDES (KYLO AND REY) IN ORDER TO BE STRONG ENOUGH TO DESTROY SNOKE!!!!!!!!!!!!!! HE LITERALLY HAS TO BECOME A SITH TO JOIN FORCES WITH A JEDI BECAUSE THE LIGHT IN HIM IS SO MUCH STRONGER THAN THE DARK AND HE HAS TO GET RID OF IT IN ORDER TO DO WHAT HE HAS TO DO AND SAVE THE GALAXY WITH REY AND LUKE !!!!!!!!!!!!!!!!!!!!!!!!!!!!!!! HE NEEDS TO KNOW WHERE LUKE IS AT ALL TIMES SO THE FIRST ORDER WONT CAPTURE HIM!!!!!!!!!!!! WHAT IF THEY STAGED LUKE'S JEDI ORDER MASSACRE!!! WHAT IF LUKE KNOWS EVERYTHING!!!!!!!!!!!1 WHAT IF KYLO KNOWS THEY LEFT HER IN JAKKU SO SNOKE WOULD THINK SHE DIED IN THE MASSACRE ALONG WITH ALL THE OTHER JEDIS!!!!!!!! AND THATS WHY HE REACTED THAT WAY WHEN THE GUY SAID THE DROID HAD 'HELP FROM A GIRL IN JAKKU'!!!!!!!!!!!!!!!!!!!!!!!!!!!!!!!1
OK, I'm going to be honest, there is a TON of holes in this theory. In fact, I have an issue with easily three-fourths of this post, especially that early Han stuff.
That being said, the other fourth isn't terrible and it's for sure an interesting lens to watch the movie through.
Is Kylo Ren the Severus Snape of "Star Wars"?
Citations: This Dad Has A Very Interesting Star Wars The Force Awakens Theory (Uproxx)