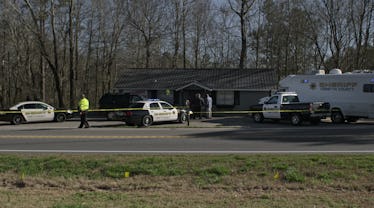 25 Creepy Movies To Watch If You Love Unsolved Mysteries
Crime fans, this one's for you.
Netflix
Few genres enthrall viewers quite like mysteries. Whether it's the unexpected twists, shocking answers, or just the fascinating journey, diving into the unknown — be it by page or by screen — continues to bewitch fans. If you've finished all of the true-crime documentaries and are looking for more on-screen entertainment like Unsolved Mysteries, these movies are perfect for all social media detectives, no matter what kind of case they're trying to solve.
While it might seem like the series on Netflix is new, it's actually been around a long time. Unsolved Mysteries was first released as a one-off special in 1987, but due to its success, it became a series the very next year, and was on and off TV until 2010. Now, with the new edition of Unsolved Mysteries out on Netflix now, the Unsolved Mysteries fandom is back in action, with some new viewers this time around. Luckily, during the wait for more episodes to come out, there are plenty of films — both modern releases and true classics — to quench your crime thirst.
Whatever part of Unsolved Mysteries lures you in, there's a film out there in tune to your cravings. Whether it's genius killers, final-act twists, unsuspecting bad guys, or just the air of mystery surrounding each and every moment, something about a good perplexing puzzle makes for really great content. If you're itching for thriller, horror, or murder content, these films will keep you on the edge of your seat and guessing up until the very last minute.
Love this list? Create a Likewise account to save these recs to your own watchlist and follow Elite Daily for more. You'll always know exactly what to watch next.
This article was originally published on