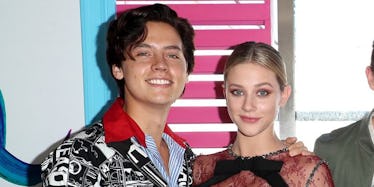 Cole Sprouse And Lili Reinhart Were The Cutest Couple At The Teen Choice Awards
Chelsea Lauren/REX/Shutterstock
Is there any greater pastime than drooling over celeb couples at awards shows? I didn't think so. That being said, we need to talk about Lili Reinhart and Cole Sprouse at the Teen Choice Awards this year because THEY. ARE. FIRE. Cole and Lili have been rumored to be dating for quite some time now, ever since Cole Sprouse uploaded some pics of his Riverdale costar to his Instagram back in March, and, though they haven't publicly confirmed their relationship (yet), they look absolutely adorable together on tonight's blue carpet. Naturally, I think it's appropriate to take some time to appreciate (read: drool over) how incredibly cute they are together.
The entire crew from Riverdale showed up looking fabulous, classy, polished, and ready to nab SEVEN awards at tonight's show, which is huge for any show, especially when you're competing against fan faves like Pretty Little Liars. Aside from Riverdale winning Choice TV Drama, both Cole and Lili were big winners tonight in their individual categories, taking home awards for Choice Drama TV Actor and Choice Breakout TV Actress, as well as in one shared category for Choice TV Ship for their on-screen romance as Bughead. Judging by the pictures, I can't say I'm at all surprised they won the last award... their off-screen chemistry definitely translates well on-screen.
D'awwwww! *heart eyes*
TOO. MUCH. CUTENESS. I mean, seriously, they're so flirty and excited and it's just too much for my fragile little heart to handle.
And, I mean, look at his hand proudly draped around her shoulder. Is that a hand that says "we're just friends"? I think not. That's the hand of a proud boyfriend if you ask me. Though these two haven't confirmed they're in a relationship yet, there are many reports that claim they are.
The rest of the Riverdale crew showed up looking dapper, as well. Here they are, all together, making their way down the blue carpet.
If I had to guess I'd say this is only one of the many awards shows we'll be seeing Cole and Lili looking adorable at over the course of awards season and I gotta say I'm not mad about it. Congrats, on your awards, you two.