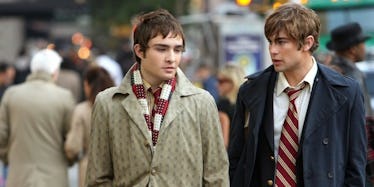 Chuck Bass Wants A 'Gossip Girl' Reunion With Nate On Their New Shows
Warner Bros. Television Distribution
Hey, ABC! Give the people what they want!
Ed Westwick and Chace Crawford were integral parts of many of our lives growing up.
The duo, who played rich NYC WASPs Chuck Bass and Nate Archibald on "Gossip Girl," were not only the co-kings of St. Jude's School for Boys, they also held governing positions in our teenage emotional developments.
"Gossip Girl" ended its CW tenure in 2012, but Chace and Ed recently found themselves back on the same network, ABC, starring in shows with impressively vague yet super hot titles.
Ed is starring in the mysteriously sexy "Wicked City," while Chace will be heading up "Blood and Oil," a show that sounds more ambiguously erotic than mysteriously sexy.
During an interview with E! News, Westwick said he wouldn't mind having a mini "Gossip Girl" reunion with Crawford on ABC.
He said,
We should do a crossover episode. It's great, we're great friends. They're all like family to me. I'm very, very happy for [Chace].
STOP YELLING! SIT DOWN! We're adults. We have jobs, and we pay taxes. It's embarrassing. You go to the bathroom and "squee" like the rest of us.
There is clearly a tight brotherhood between the stars of "Gossip Girl."
At the SAG Foundation Los Angeles Golf Classic in June, Chace joked about his former castmates, saying,
I can't stand any of those people. I never want to see them again.
You can watch the interview below.
Is an ABC reunion in the works? Honestly, probably not.
But then again, anything is possible when you have the influence, money and power of Manhattan's elite.
Citations: Ed Westwick Wants to Stage a Gossip Girl Reunion With Chace Crawford on Their New Shows (Cosmopolitan)