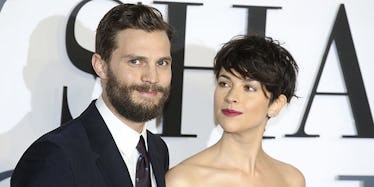 We Might See All Of Christian Grey's Package In The Next 'Fifty Shades'
REUTERS
If you thought Christian Grey had pushed the envelope far enough in the last "Fifty Shades" film, you're dead wrong.
Rumor has it that moviegoers will be seeing more of Grey in the next installment of the series. And by "more of Grey" we mean, like, all of him.
One report claims that a $1.5 million bonus was offered as a "starting figure" for Jamie Dornan, the actor who portrays Grey in the film. The catch? Dornan would have to do a full-frontal scene in "Fifty Shades Darker."
And while that rumor might be exciting for some of the actor's fans, there's one woman who seems none too pleased, Dornan's wife. Actress Amelia Warner, who's been married to Dornan since 2013, is rumored to be upset over Dornan's possible nude scene.
Just a couple of days ago, questions were swirling around whether Dornan was "quitting" the film and if Warner were the reason for it. And while that seems highly unlikely, it does underline the fact that, well, Warner might not be excited about her husband hitting the big screen.
And, let's be real, she's had enough to be jealous about, with scenes like this.
So, yeah, it's not the biggest shock in the world if Amelia Warner is rubbed the wrong way by the idea of her husband doing a full nude scene.
Citations: Hollywood Life, Morning Ledger