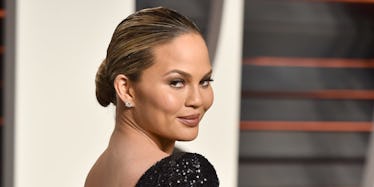 Chrissy Teigen Actually Won The Oscars With This Reaction To Stacey Dash
Getty Images
Aside from "The Martian," last night's biggest loser was Stacey Dash.
Things didn't go super smoothly at the Academy Awards for the one-time star turned least favorite cast member of "Clueless." Rather than me paint for you an awkward picture of Sunday's events, why don't you just watch what happened here.
Oy. Swing and a miss. Don't get me wrong, we all still SUPER dislike Stacey Dash… but also, you kinda have to feel bad for her, right? Like, walking in on a high school principal you hate crying in the bathroom.
Chrissy Teigen's face spoke for all of us last night during that miserable Oscar moment.
In case there was any doubt, Chrissy went to Twitter after getting caught making the face to reassure everyone she was reacting to Stacey's "moment" and not to Sarah Silverman's monologue.
Then, John Legend backed her up because he's the best effing husband in the world, and what the two of them have together is something that's normally only a reality in storybooks and Counting Crows songs.
The Internet Internet-ed as hard as it could after Stacey's gaffe, using Chrissy's face as inspiration because, of course, the Internet would.
A photo posted by @lgbtqadaily on Feb 29, 2016 at 5:09am PST
A photo posted by Corliss Corbin (@corliss_cash) on Feb 29, 2016 at 4:50am PST
A photo posted by Amanda Montuori (@amanders27) on Feb 28, 2016 at 7:50pm PST
Good job, Internet.
Citations: CHRISSY TEIGEN'S CRINGE FACE IS THE ONLY OSCAR MEME YOU NEED TO SEE (MTV)