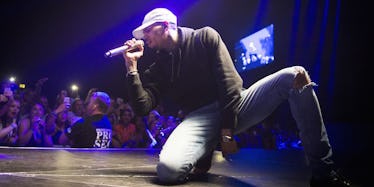 Chris Brown Denies Trashing An Ibiza Mansion And Peeing The Bed
REX/Shutterstock
Oh, Chris Brown. You can never seem to stay out of trouble for too long.
The 27-year-old's latest reported blunder involves a nearly $60,000 tab for a rented villa in Ibiza, Spain.
Apparently, the singer had a party of some kind and totally wrecked the place.
According to TMZ, which obtained a police report, there was wall damage caused by knife throwing, vomit everywhere and someone even peed the bed.
The singer responded to the allegations in an Instagram video, and he seemed pretty upset to be accused of damaging the property.
It's petty, it's unnecessary, it's unprofessional. I don't conduct myself like that...We turn up and we have fun. We ain't no fucking animals bro. At the end of the day, if you want to muscle somebody else, muscle who you going to muscle.
He concluded, saying, "Good luck on that money, holler at Ascot. We ain't tear that house up."
Brown also mentioned other videos he took as proof there was no damage, and he uploaded them to Instagram, too.
Well, the videos do seem to show a clean house with very minor damage, but there's no way to know exactly when Brown took these videos. In any case, TMZ reports the issue with the landlord was resolved.
Brown's European holiday hasn't been going as smoothly as he might hope. Last weekend, in Naples, Italy, Brown was accused of throwing a fan's phone away after he thought he caught her filming him in the VIP area of a club.
According to TMZ, which got footage of the late-night event, Brown has a no-taping policy.
I get it: You're Chris Brown, you're shirtless in the club, you do what you want whether you're in Spain or Italy, but I guess the woman didn't ask you permission to film?
I wonder how could Brown even know she was recording.
TMZ reports Brown didn't even ask the woman any questions, and it seems that way from the video; he just saw the woman on her phone, grabbed it, chucked it and had the woman thrown out of the VIP.
How could he possibly know what she was doing? Maybe she was just checking her messages.
Sources told TMZ the woman did not call the police because security found and returned her phone to her.
Well, check out the casual fury on display below in TMZ's video, and know not to be on your phone near Chris Brown because he might just decide to chuck it no matter what you're actually doing.
Citations: CHRIS BROWN COPS BOOT SINGER FROM IBIZA Vomit and Urine (TMZ), CHRIS BROWN TOSSES GIRL & HER PHONE FROM VIP (TMZ), Chris Brown Grabs A Groupie's Phone In The VIP And Throws It Over His Shoulder Like The Jerk He Is (BroBible), Chris Brown 'owes £45k after he left rented Ibiza pad with urine on the bed and vomit everywhere' Read more: http://metro.co.uk/2016/07/02/chris-brown-owes-45k-after-he-left-rented-ibiza-pad-with-urine-on-the-bed-and-vomit-everywhere-5980164/#ixzz4DGIewBUF (Metro), Chris Brown Posts Videos Slamming Allegations He Trashed Vacation Home (Complex)