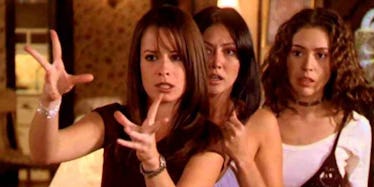 'Charmed' Is Getting A Reboot And There's Much More Magic To Come
The WB
Well, it looks like my summoning robes and protective circles have finally paid off.
The beloved 1998 show "Charmed" is in the process of getting a reboot at The CW.
The show, which originally starred Shannen Doherty, Alyssa Milano, Holly Marie Combs and later Rose McGowan, took place in San Francisco.
Who could forget the power of three, their magic and '90s crop tops and early-aughts fashion in the Aaron Spelling drama that ran for eight seasons?
And the Halliwell sisters just straight-up LAUNCHING people they don't have time for right out the door.
Bye, bitch.
But the network says the new "Charmed" won't be set during modern times, or even during the late '90s.
That doesn't mean you have to say goodbye to crop tops, though. They plan to set the "reimagining" of the series in 1976.
Ah, yes, our great country's bicentennial -- a time when demons ran rampant, and witches had to vanquish them, naturally.
The show will be written by "Jane the Virgin" alum Jessica O'Toole, Amy Rardin and Jennie Snyder -- so we can expect a lot of wit.
MOVE BITCH, GET OUT DA WAY -- NEW WRITERS ARE IN TOWN.
The reboot is still in the script stage, so no one is attached to star.
Along with fighting evil forces, it is suspected that the new three witches will also be fighting for women's rights.
(Who else is waiting to find out the people behind Planned Parenthood v Danforth, which wanted to continue the requirement for women needing written spousal consent before they could have an abortion, were demons?)
Star Holly Marie Combs has already taken to Twitter to show her support.
If it is set in the '70s, then maybe the story line will follow the sister's mother Patty and the sister's grandmother Penny?
FREE LOVE OF THE '70S? BYE, BITCH!
Citations: Charmed getting rebooted by CW with retro twist (EW)