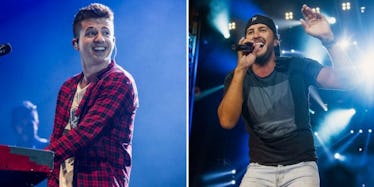 Charlie Puth & Luke Bryan In Talks To Join Katy Perry As 'American Idol' Judges
Getty
The rebooted American Idol isn't only looking for new blood in with its contestants; the long-running reality show is also courting fresh faces for its judging panel. A couple months ago, American Idol signed on Katy Perry as its first judge, and now the revived franchise is reportedly courting Charlie Puth, Luke Bryan, and more artists to become the new American Idol judges.
After Fox decided to put American Idol to rest after 15 seasons last year, ABC swooped in and picked up the long-running competition series for a new season set to debut in 2018. Currently, the network is lining up its talent pool to helm the rebooted series. All that's been officially revealed so far is Katy Perry will be a judge and Ryan Seacrest will return as host.
Of course, everyone's wondering which stars will fill in the rest of the judging chairs. It's sounding like original judges Simon Cowell, Paula Abdul, and Randy Jackson won't be returning, and ABC is looking at other superstars in the music industry instead. At the top of the list? Lionel Richie is the front-runner for one of the remaining two judging spots, according to TMZ.
There's apparently some more competition for the final judge's chair. Reportedly, Charlie Puth is the current favorite for the spot, but producers are also considering Luke Bryan. And the third option would be to bring back American Idol vet Keith Urban to judge the show yet again.
What I think, though, is if the show really wants to recapture the magic of its first few seasons, it needs a mean judge to take up the Simon Cowell position of delivering the harsh truth in no uncertain terms. Unfortunately, I don't really see Perry, Richie, Puth, or Bryan really filling that role too well. Maybe ABC can check to see if Kanye West is interested?
The rebooted American Idol series will debut on ABC next year.