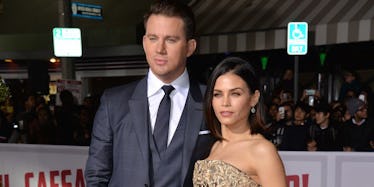 Channing Tatum And Jenna Dewan's Anniversary Posts Are Too Cute To Handle
Shutterstock
Eleven years ago, a beautiful dance student and a sexy janitor with a past united on-screen in love and dance.
He was hip-hop!
She was classical ballet!
They both had hot mouths!
The actors who played these two star-crossed dancers fell in love IRL and are now, over a decade later, celebrating their seventh wedding anniversary.
Channing Tatum and Jenna Dewan Tatum showed no sign of suffering the proverbial itch on Monday when they posted tributes to one another on Instagram.
Jenna shared photo booth snaps of the couple, captioned simply, "7 years <3."
Channing posted a photo of his wife's sunny silhouette, thanking her for seven years and reminding everyone she looks "daaaaaaaaanmm!!!"
The still-smitten couple who, let's be honest, both look "daaaaaaaaanmm," are parents to 3-year-old daughter Everly and a big ol' pile of Hollywood money.
If that right there isn't the happiness trifecta, then none of us have a chance in this world.
Unless, of course, we stumble upon a dancing janitor with a thirst to prove himself and find true love.
Citations: Channing and Jenna Dewan Tatum Posted the Cutest Photos to Celebrate Their 7th Anniversary (Cosmopolitan)