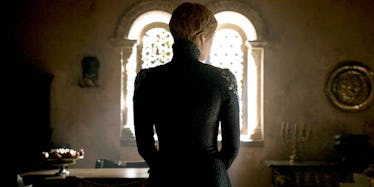 Cersei Lannister Actress Says "I Ain't Sorry" About The Sept & We're Bowing Down
HBO
Interviews with actors and actresses about the upcoming Game of Thrones season can sometimes have a slightly stilted air. Interviewers always want to ask about spoilers, the cast gets tired of being asked questions they can't legally answer.
Finally, it seems like one publication has found a solution. Net-a-Porter released its Lena Headey cover story yesterday. In a stroke of genius, the publication had Headey's follow cast member Maisie Williams, who plays Arya Stark, do the questioning. The result is one of Headey's most forthright and relaxed interviews to date.
(The fact Arya Stark turns out to be the one who can get Cersei Lannister to relax... well, that Faceless Man training must be powerful indeed.)
Up until now, when asked about the Sept of Baelor, Headey has been slightly cagey about how she felt. Not with Williams, though. She admits the blowing of the religious institution to smithereens was the highlight of last season for her.
Her words for Margaery are divine.
The High Sparrow [played by Jonathan Pryce] was yet another man who came along and was like, 'I'm going to manipulate you.' So I think her revenge… Well, I was like, "Yes! F*** you!" And she took out Margaery Tyrell [Natalie Dormer] and her low-cut blouse. Bye, perky t*ts.
One can almost see Cersei think that exact thing about Margaery as the Sept blows, no?
In fact, Headey is so chill, she actually gives a hint of what's to come in Game of Thrones Season 7. As might have been expected, Cersei, with nothing left to lose, has become a complete horror show.
As she tells it:
And this season coming, because she's lost everything. Whatever was good [in her life] has been erased and she's a horrible cow to one particular character… It's really quite loathsome.
Who could she mean? The most obvious guess is Jaime. Who else in Westeros is in King's Landing with her who she could be extra cruel to? The Undead Mountain That Shuffles? Qyburn? Obviously, she'll be horrid to Dany when she shows up. But then again, we expect Dany to breathe some dragon fire right back.
Jaime, on the other hand, she trusts never to leave her. And it's known that those we trust most are the ones we lash out against the hardest.
We'll find out just how terrible Cersei has become in a few days time. Game of Thrones Season 7 arrives July 16 at 9 p.m. ET on HBO.