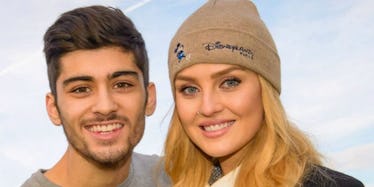 Perrie Edwards Beat Ex Zayn Malik At The Brit Awards With A Song About Him
REX/Shutterstock
Breakups are always really hard.
For most people, blocking the ol' ex-ball and chain on Instagram is the first step toward healing. Get rid of them on social media, and you usually don't have to worry about seeing them in real life.
However, if you're Zayn Malik, then you saw your ex Perrie Edwards rock the stage at the Brit Awards and win Best British Single over your own song "Pillowtalk."
More awkward than that, Edwards' band Little Mix's winning song is "Shout Out To My Ex," which includes lyrics like,
This is a shout out to my ex / Heard he in love with some other chick... I hope she gettin' better sex / Hope she ain't fakin' it like I did, babe.
Yikes, as awkward as it may be between me and my ex, they've never recorded a song that made it on Billboard Hot 100 about how I'm terrible in bed (and I am terrible).
Malik and Edwards were just teens when they first went public with their relationship, 19 and 18 respectfully. Malik was also busy touring with his band One Direction so there were plenty of rumors of the boy band superstar cheating.
Eventually, Malik proposed to Edwards and even bought her mother a new house.
Soon, Edwards was compared to a modern day Yoko Ono and blamed for breaking up One Direction when Malik chose to start his solo career.
Shortly after signing a solo record deal, Malik allegedly broke up with Edwards through a text message.
In the "Little Mix Our World" book, Edwards wrote,
It was horrible, the worst time in my life. A four-year relationship, two-year engagement ended by a simple text message. Just like that. Even though things in my career were going really well, it was incredibly difficult for me. After I split with my partner, out of the blue, I had nowhere to go, which was incredibly stressful. For a while, I had no idea what to do.
So, without any idea of what to do, she wrote a number one hit slamming Malik and his tacky breakup, which won her an award.
Vengeance is sweet.
Citations: Brit Awards 2017: Watch the Live Stream Here (Variety)