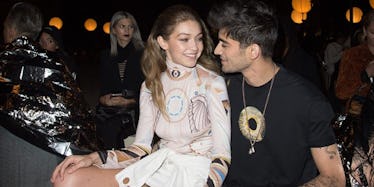 These 9 Zayn Lyrics Could Be About Gigi Hadid And We're Swooning
Stephane Cardinale - Corbis/Getty Images
Zayn Malik, handsome ex-One Direction member and lover boy to Gigi Hadid, has showcased his romantic side again and again and again. The pop star may be somewhat private in his personal life about his deep love for Hadid, but Zayn's lyrics about Gigi Hadid are basically solid gold proof the two are meant for each other, for like... ever.
Technically, there hasn't been any real proof these lyrics are about Gigi Hadid of course, but we can dream, can't we? Although Hadid and Zayn don't always express their deep commitment and adoration publicly, that doesn't mean Zayn isn't writing lyrics about the beautiful Hadid all day every day.
Lyrics, unfortunately, can be interpreted differently by every listener, but we interpret Zayn's lyrics to mean love for Hadid. Until we hear otherwise, we will all be patiently waiting for that exclusive interview titled, "Why Every One Of My Songs Is About Gigi" every second of every day. For now, all of us Zayn fans can continue to over-analyze his songs and make assumptions about his love life because Zayn's lyrics are our only sneak peek into the singer's personal life. So, let's really dive into this daydream about the hottest couple of the century, Zayn and Gigi.
1. "Who do you love? Who do you love?"
She loves you, Zayn! You!
2. "In all this bitterness you stay so sweet."
You're too much, Z. Too much.
3. "Just stop lookin' for love. You still got time."
He is perfect.
4. "This could be something if you let it be something."
Good god. They're attractive.
5. "I love to hold you close, tonight and always."
Do they hold each other close every night?!
6. "I love to wake up next to you."
Please, be true.
7. "When I'm with you, I'm buzzing and I feel laced."
We get it.
8. "I need her body, she needs me too." 
Makes sense.
9. "When you're looking like this I just can't resist it."
We cannot resist these song lyrics!
Zayn, more Gigi lyrics, stat! Damn, they're beautiful together.