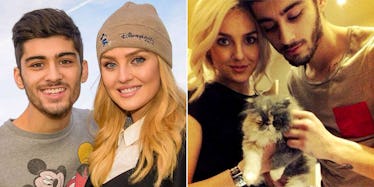 Zayn Isn't Worried About Leaving 1D Because His Fiancée Is Hot As F*ck (Photos)
Twitter
Former One Direction singer Zayn Malik crushed the hearts of underage girls globally when he recently quit the team.
Of course, he has every right to branch out and do his own thing, but when you're getting that much money and that many women, why the hell would you ever leave, dog?!
There is only one driving force that kills momentum like this.
It killed The Beatles before, and now, it's infecting one of the hottest acts of our time.
Zayn Malik is engaged to his longtime girlfriend, Little Mix singer Perrie Edwards.
His fiancée, Perrie Edwards, is just 21 years old, but she's already the Yoko Ono of our generation.
The two singers have been on a perpetual vacation for months now, and clearly, Zayn's head is in the clouds. But, can you blame him?
She's straight up bad, and I know I'd leave all my homies behind if I bagged. Sorry, dudes!
Zayn is 22 years old and worth about $20 million.
He's in love and ready to trade it all in for his boo.
No one can really blame him for his decision, either.
Because any girl who can rock feathers like this is The One.
Even his best friends understand his decision.
Does this sound familiar to anyone else?!
Perrie Edwards is definitely wifey material.
You know it's real when you bring her to Disneyland.
A girl like her has 1.5 million followers on the 'Gram.
Funny enough, she's in a girl band and didn't leave it.
But, she's not the type to leave Zayn anytime soon either.
Any girl who can rock the jersey and snapback knows exactly what she's doing.
She can switch it up when she visits Mom.
Nose ring... very edgy.
Bad friends... She has those, too.
Wait a second, is that talent I spot over there?
Of course, she can sing.
Perrie and Zayn even share a dog together.
So, you know they're not leaving each other in the near future.
Any girl who eats her Ramen with Hello Kitty chopsticks is a keeper.
Go ahead and marry that woman, Zayn. You earned it.
Just don't be mad if she ends up taking half.