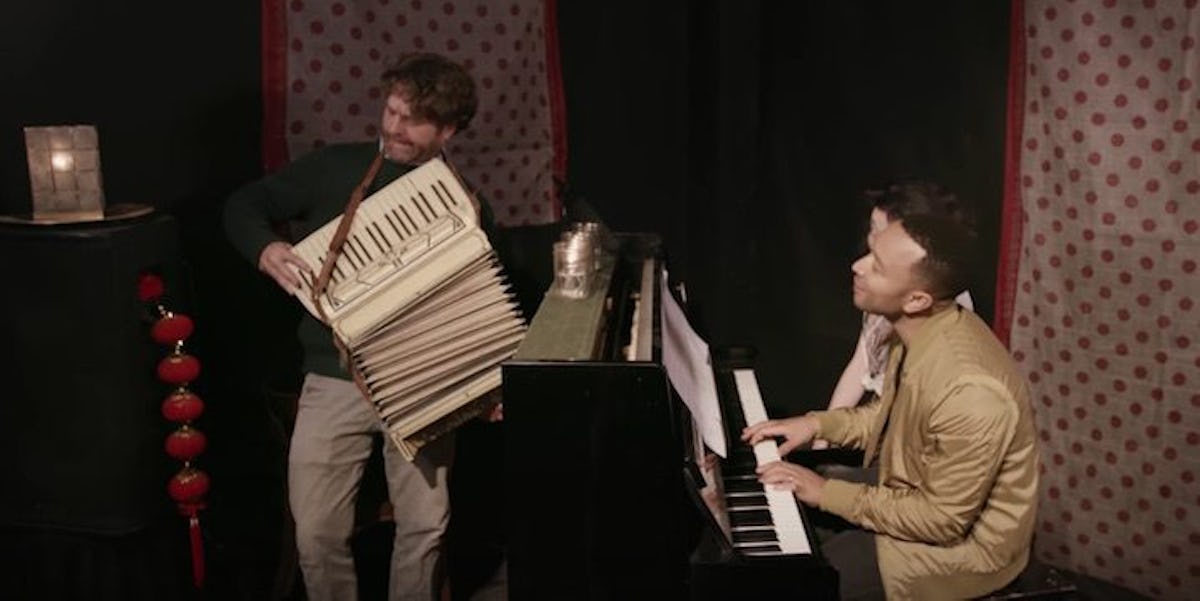 Zach Galifinakas Trolls John Legend And St. Vincent's Duet In Hilarious Video
YouTube
Zach Galifianakis is here to fight for your reproductive rights.
Comedian and women's healthcare champion Zach Galifianakis joined talented musicians St. Vincent and John Legend for the first in a series of video shorts that, with luck, will promote 7 Inches For Planned Parenthood: a box set of seven-inch singles packed with donated performances to benefit PP in the wake of the Trump administration's promise to defund it.
Musicians like Mary J. Blige, Björk, Foo Fighters, Common, Bon Iver, Chvrches and The National, among others, joined comedians Sarah Silverman, Margaret Cho, Aparna Nancherla, Tig Notaro, Janeane Garofalo, among others, writers and activists like Margaret Atwood, dream hampton, Dr. Willie Parker, among others, and visual artists Angela Pilgrim, Shepard Fairey, Mark Fox — you guessed it — among others, to create the fundraising box set.
The concept was created by The National's Matt Berninger and the band's manager Brandon Reid following the disastrous November election.
Reid told Billboard,
The day after the election was very hazy… We were throwing ideas back and forth and started to think about immediate things [Trump] was going to attack and it was frightfully clear Planned Parenthood was on the top of that list. Many of us in music business are transient, don't have health insurance and rely on Planned Parenthood so we got the idea off the ground.
In the first short, Zach helps John and St. Vincent (aka Annie Clark) rehearse a cover of "Lovin' You" by Minnie Riperton. Zack, while known for his comedy, is a genius at crafting engaging, transformative musical performances.
His tips:
-Sing it lower -Use your true-setto, not your falsetto -Don't suck -Brand yourself as an artist -Be sexy -Get clicks -Be less Peabo Bryson -Be less Luther Vandross -Add a little accordion -Express your anger -Mention STDs -Scream
It's not, like, that hard. Just do it.
Citations: John Legend, Foo Fighters, Bjork On New '7-Inches for Planned Parenthood' Box Set (Billboard)