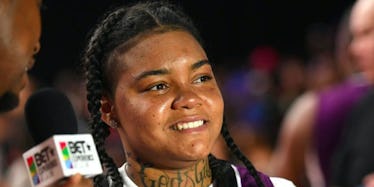 Young M.A.'s Real Name Is Super Rare And Has A Cool Meaning
Paras Griffin/Getty Images
This past year we've seen a lot of amazing new artists crop up. Of course, that isn't to say they haven't been working hard for years to establish themselves, it's just this is the first time their music is being recognized on a large scale. That being said, the MTV VMAs is one of the biggest nights of the year for new talent, and this year one the newest nominees on the red carpet will be Young M.A., a Brooklyn-based rap artist whose music and talent will Blow. You. Away. There's a lot to know about the 25-year-old rapper before you see her hit the red carpet this year, so let's begin with her name. Like many other musicians in this year's Best New Artist category, Young M.A.'s real name is different from her stage name. That's right, the artist's real name is totally unique and you're going to love it.
Young M.A.'s birth name is Katorah Kasanova Marrero. Yea, not even close to the stage name we know her by now, but so different, right?! The "OOOUUU" singer even had a YouTube channel under the name Kat Kasanova before her career as Young M.A. took off. As gorgeous as the name is, if you're anything like me, you're probably wondering how she got Young M.A. from it. Well, the rapper spoke with Glamour magazine earlier this year about how she came up with her nickname-turned-stage-name, and the story is actually pretty funny. She said,
I made it up when I was younger — I had to be around 12 years old. I had other rap names, but they weren't working out. It was originally Young Ma, but when a lot of other Mas started to come into the game, I had to change it. I didn't want to lose my name, so I abbreviated it to M.A.
Hmmm. I think she's lookin' at you Remy Ma. Just kidding, the change seemed to work out just fine for Young M.A. considering her debut single "OOOUUU" is certified double platinum and she's nominated for one of the most important awards of the night at the VMAs. I'm looking forward to seeing if she wins, but one way or the other I guarantee we'll be seeing a lot of Young M.A. in the future.