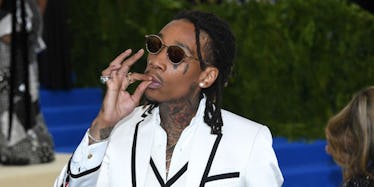 Wiz Khalifa Smokes On The 2017 Met Gala Red Carpet And The Internet Can't Handle It
Getty Images
What do you do when you're at the Met Gala and everyone around you looks classy AF?
Whip out a blunt and smoke it, of course.
That's at least what it looks like Wiz Khalifa did at the 2017 Met Gala red carpet, and man, oh man, are people talking.
The 29-year-old rapper showed up to the Metropolitan Museum of Art on May 1 wearing black slacks and a white vest and blazer. He looked pretty incredible, but it was the accessory he whipped out of his pocket that had the people talkin'.
Here are some pics of Wiz Khalifa smoking on the Met Gala red carpet for your viewing pleasure. Below, you can see him inhaling the goods from literally every angle.
In my eyes, Wiz is literally the MVP of the night.
Some people went to Twitter to argue over whether Wiz was smoking a blunt or a joint. As you can see, it became a very heated topic of discussion.
THERE'S ALSO A VIDEO OF HIM LIGHTING UP ON THE CARPET. I CAN'T HANDLE IT. HE IS MY JESUS.
Everyone bow down. We are not worthy.
Honestly, Wiz Khalifa at the Met Gala is the internet's new hero. I don't even care what you're smoking, man. Just pass me some.
This year's Met Gala was arguably the most interesting one yet. Everyone from Katy Perry to Kim Kardashian was in attendance, and the stars strutted their stuff down the carpet while showing off their amazing looks.
Slay, ladies, slayyyy.
As interesting (and outrageous) as some of the outfits were, no one — and I mean, NO ONE — topped smokin' Wiz. The man literally set the carpet on fire... OK, not literally... because like, that'd be dangerous. But imagine?
Congrats on an incredible night, everyone. And a special shout out to my boy Wiz for knowing what's good.