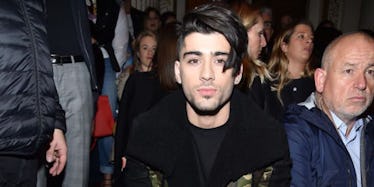 Zayn Malik Revealed He's Skipping The 2017 BBMAs, But He Has A Great Reason
Getty Images
OK, friends, I hope you have a box of tissues and a pillow to scream into at the ready, because I have some pretty upsetting news.
Zayn Malik, who's nominated for Top New Artist, will not be attending the 2017 Billboard Music Awards in Las Vegas tonight.
I KNOW, I KNOW. CRY WITH ME, YOU GUYS.
A few days ago, on May 19, 2017, the official Billboard Music Awards Twitter account posted a series of tweets featuring a little sneak peek of the seating arrangements for tonight's ceremony. And featured in those tweets were Zayn Malik's and Gigi Hadid's seat cards in the audience.
So, of course, everyone was getting hyped to see Zigi attend the awards — and most importantly, slay the red carpet — in all their glory.
But right before the red carpet festivities were beginning, Zayn broke all of our hearts to let us know he wouldn't bless us with his gorgeousness. (It's OK, Zayn. I'd still die for you.)
He tweeted,
Can't make it to the #BBMAs tonight and know I've been away for a bit .. Finishing up these new songs for you. Be back soon.
Um. You guys. Did you just read what I read? NEW SONGS FROM ZAYN??? EXCUSE ME WHILE I PASS OUT.
How long will we have to wait for these new Zayn songs? Well, there's no telling just yet, but hopefully Zayn doesn't keep us waiting for too long. My ears have been deprived of new melodies featuring his sweet, sultry voice for too long.
But until we get brand new music from Zayn himself, his most recent collab with PartyNextDoor called "Still Got Time" will have to hold us all over.
Last month, Zayn also released a video for the single, which basically gives all a glimpse of what it would be like to chill at a party with him.
If you say you're still totally unchanged as a person after watching that music vid, you're probably lying (no offense).
ANYWAY, it's currently unclear if Gigi will attend the awards solo tonight. Regardless, while my heart is aching that I won't be graced with new, beautiful, red-carpet Zayn pics, at least he'll be giving the people what they want very soon: MORE DOPE MUSIC.