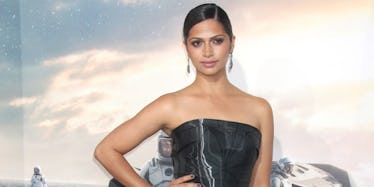 You'll Never Guess What Camila Alves Eats To Maintain Her Super Fit Body
Shutterstock
Camila Alves and other half Matthew McConaughey are the definition of powerhouse couple. They never fail to slay it at glamorous red carpet events and star-studded affairs.
Come on, just look at Camila killing it on the Cannes red carpet like the freaking goddess she is…
Although our girl's appearance is always looking flawless, Camila reveals to Delish she started feeling extremely bloated during awards season.
She took to her nutritionist friend for advice.
"I think the big thing, really, is listening to what your body tells you. If you spend three or four days eating clean, then gradually start putting different foods back into your diet, you can get an idea—'when I eat this, I don't feel good'—and know what works for you."
Seriously though, PREACH, Camila. Having to deal with a ton of stomach issues myself, this is the story of my LIFE.
For breakfast, Camila enjoys a yerba mate tea, then a detox shake. She makes the shake with almond milk, berries and a specific "detox powder."
So many serene vibes going on right now, Camila.
This 34-year-old model is not one to skimp on snacks.
Who could blame her?
For a healthy mid-day treat, she has fruit and almonds. To get her berries super clean, she actually washes them the night before with white vinegar.
When it comes to lunch, Camila completely switches it up…and you'll probably never be able to guess what she eats.
BABY FOOD.
Yup, you heard that right.
Camila is the co-founder of an awesome organic baby food company. And the best part is the pouches are preservative-free.
"I did a cleanse, and there were a lot of pureed meals, and my body just agreed with it. It wasn't realistic to do all pureed meals, so I do a combination."
How she prepares the baby food actually sounds super delicious.
After thawing three pouches of Yummy Spoonfuls vegetable puree, she sautés it with spices and olive oil.
A drizzle of olive oil is added as the cherry topping to her meal, along with sea salt, ground pepper and a touch of turmeric.
Camila has a Yummy Spoonfuls organic fruit puree for an afternoon snack.
For dinner, Camila closes out the day with her choice of protein, accompanied by veggies and black beans.
"For me, clean eating is making sure whatever I'm eating is fresh or organic, and that I'm only eating packaged foods with ingredients I recognize."
OK, there you have it. I think I'm going to start eating baby food now? My gal Camila has seriously changed me.
Citations: What Camila Alves Eats to Get a Flat Stomach (Delish)