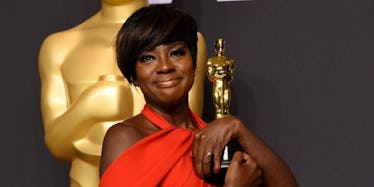 Viola Davis Deserves Another Oscar For Bold Artist Of The Year Speech At Harvard
REX/Shutterstock
Actress Viola Davis just did it again.
A few weeks ago, Davis delivered a moving Oscars acceptance speech after winning the award for Best Supporting Actress for her role in "Fences."
In the speech above, fighting back the tears, Viola Davis said,
You know, there is one place that all the people with the greatest potential are gathered and that's the graveyard. People ask me all the time — what kind of stories do you want to tell, Viola? And I say exhume those bodies. Exhume those stories — the stories of the people who dreamed big and never saw those dreams to fruition, people who fell in love and lost. I became an artist and thank God I did, because we are the only profession that celebrates what it means to live a life.
I get goosebumps just listening to that speech.
Saturday, Viola Davis crushed it once more when she was honored with Harvard's Artist of the Year Award.
Somehow, the 51-year-old gave an even more emotional acceptance speech than she did at the Oscars.
Grab the tissue box, turn up the volume and let Viola Davis blow you away yet again.
As you can hear in the video above, Davis said,
Art, it's a very sacred place, the stage and the screen. Because really, at the end of the day, even what I do as an artist, when I channel characters and people and their stories, and those moments in their lives that we sometimes hide, that we feel like is just our mess, our shame. I want people to be seen. I want them to feel less alone... Your job as an audience is to bear witness. To come open and willing to transform.
She continued,
I spent so many years at Juilliard just wanting to beat somebody up. I think it was the height of my anger; that chip on my shoulder. I'm still trying to take care of that chip on my shoulder, by the way. It was mainly because I felt my voice as an artist was being stifled.
Bravo, Viola Davis.
I really can't wait to see what this woman does next.
Citations: Watch Viola Davis's Beautiful Acceptance Speech for Harvard's Artist of the Year Award (Cosmopolitan)