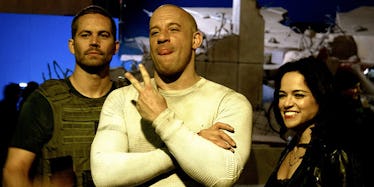 Before He Became A Star, Vin Diesel Started Out As A Club Bouncer
Facebook
Most of us only know Vin Diesel as the action movie star who first became famous with the "Fast And The Furious" series back in 2001.
Seven of those bad boys later, he's cemented himself as one of the biggest acts in Hollywood.
However, the story of Marc Sinclair (that's his real name) started way before you were dropping 10 bucks to see him on the big screen.
Everybody achieves success differently, and there's always going to be adversity, but at least he got a badass name out of it.
Vin Diesel's rise to the top started when he was born in Alameda County, California in 1967.
Vin was born to a single mother, who was an astrologer, and never met his father. He has two brothers and one sister. But how he's not from New Jersey is beyond me.
One of his brothers is actually a twin, named Paul.
The two spent a large part of their early life in the Greenwich Village area of New York City, where their stepfather was an acting instructor.
It wasn't until Vin Diesel was actually trying to vandalize a theater that he got his first role.
According to the Vin Diesel Handbook, he broke into the theater with his brother and some friends when they were caught by a play director.
But instead of calling the police, she gave them $20 and a script, casting them be a part of her next show.
The play was called "Dinosaur Door," and he was just 7 years old.
He spent his teenage years in NYC and ended up becoming a club bouncer at 17.
While attending school at Hunter College, he had a part-time job as a bouncer at a nightclub in the city called The Tunnel.
He also adopted his stage name then, when people started calling him Vin Diesel, referring to the fuel, for his nonstop energy.
He was also a breakdancer and released this video called "Breakin' In the USA."
After attending three years of college in New York where he majored in creative writing, he began screenwriting and decided to leave for Los Angeles before graduating. However, he would soon return after failing to find any work.
His mother would then give him a book that changed his life.
Diesel realized he needed to start taking control of his own career and start making his own movies.
In 1990, he made his first film appearance in "Awakenings."
While his role was brief (and uncredited), you can (at least for a few seconds) see when Vin Diesel used to have hair.
In 1994, he wrote, directed, produced and starred in his first movie.
"Multi-Facial" was Vin Diesel's first project, which was shot in three days for just $3,000. It was even screened at the Cannes Film Festival.
Then, in 1996, he made his first full-length feature movie.
After working in telemarketing, Vin Diesel raised nearly $50,000 to drop "Stray," which can now be watched entirely on YouTube.
Vin Diesel starred in his first blockbuster hit, directed by Steven Spielberg in 1998.
His role in "Saving Private Ryan" finally put him on the radar of directors and producers in Hollywood.
He would even lend his voice as the Giant in "The Iron Giant."
You're damn right that was Vin Diesel.
But the role that changed his entire career was when he was cast as the anti-hero in "Riddick."
This would officially typecasted Vin Diesel as an action movie star for the rest of his career, and it's really worked out.
However, his part was more important than just finally getting in the spotlight. He told the Hollywood Reporter his home was depending on it, saying,
If we didn't finish the film, I would be homeless.
The start of the "Fast And The Furious" series would change the course of his career once again.
He would begin dating co-star Michelle Rodriguez for a bit...
Become known for amazing one-liners like this...
And, of course, make some of his best friends both on and off the screen, like Paul Walker.
The movie franchise is now one of the most successful ever after "Fast 7" grossed over $1 billion.
Vin Diesel is now worth an estimated $75 million.
Vin Diesel could've given up on his dream early when it didn't work out the first time.
Instead, he used the failure to help motivate himself and succeed in the industry he was born to be in.
Aside from being on the big screen every summer, he's not the type of guy to be in the tabloids.
In an interview with Details Magazine, he said,
I'm not gonna put it out there on a magazine cover like some other actors. I come from the Harrison Ford, Marlon Brando, Robert De Niro, Al Pacino code of silence.