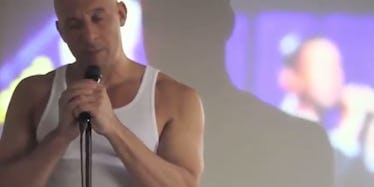 Vin Diesel Gives Us The Best V-Day Gift By Singing Maroon 5 Karaoke (Video)
Valentine's Day is tomorrow, so you know what that means.
It's time for Vin Diesel to serenade all you beautiful souls out there.
Yes, OK, that is not traditionally what Valentine's Day means, but Diesel decided to post a video in which he sings along to Maroon 5's "My Heart is Open" to his Facebook page.
So, we are obligated to repost it here.
Diesel's voice is not exactly what you'd call "good," but he is definitely giving it his all. Sit back, relax and allow Diesel's dulcet tones to whisk you away.
Citations: Vin Diesel singing Maroon 5 is his Valentines Day gift to us all (Mashable)