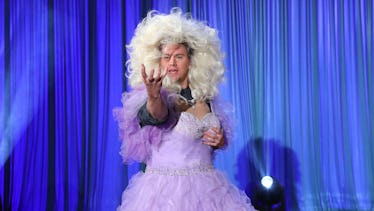 Channing Tatum Sang "Let It Go" In A Princess Costume & It's Just As Amazing As You Think
The Ellen Show
For the record, Channing Tatum can do just about anything. His talents include dancing, acting, stripping, smoldering, and forever nailing #relationshipgoals with Jenna Dewan-Tatum. He can also, it turns out, lip-sync dressed like a princess and STILL manage to make you feel just a little light-headed. During a recent appearance on The Ellen Show, Channing Tatum sang "Let It Go" in a princess costume, and the whole performance made the world a better place.
First things first, we really need to thank Halle Berry for Tatum's glorious turn as Frozen's Elsa. The two have been busy promoting their upcoming film together Kingsman: The Golden Circle, and things have been getting a littttttle weird (in a very, very good way). During San Diego Comic-Con in July, Tatum dared Berry to chug a whole glass of whiskey. The actress accepted, but then promptly got drunk. Tatum told Ellen DeGeneres that he didn't mean for that to happen, explaining,
All of the [film's] agents - the Statesmen agents - are named after boozes. Like, I'm Tequila. There's Champagne. She's Ginger Ale, which is not an actual alcohol, but I never thought she was gonna drink it all, and I poured a bunch of whiskey in her glass. She drank it, and she got mad, because she had to, the rest of the day, do press.
During Berry's interview on The Ellen Show last week, she admitted that the whole chugging thing wasn't her wisest move – and she had to deal with the consequences. "It was so dumb, Ellen," she said. "It was so dumb. I was sick for, like, three days."
Tatum really didn't want his co-star to feel bad, so as an apology his sent some strippers from Magic Mike Live to The Ellen Show – you know, to ease the pain.  "I was apologizing," Tatum later told DeGeneres. "This was my way to say, 'I'm so sorry. Let me bring you this joy.'"
AND WHAT A JOY IT WAS.
You'd think the score would be settled after the above performance. But, apparently not. Berry upped the ante by leaving behind a dare in an envelope for Tatum's next appearance on The Ellen Show.
That dare, as we found out on Friday, was for Tatum to dress up as a princess and lip-sync along to "Let It Go." And that he DID.
Tatum donned a purple gown and blonde wig and really went for it. Admittedly, he didn't totally remember all of the lyrics but definitely, definitely gets an A+ for effort, and also for that end bit where he danced around in fake money.
Believe it or not, this is isn't the first time that Tatum has channeled Elsa. The actor/dancer/professional smolder-er performed a truly top-notch rendition of "Let It Go" when he appeared on an episode of Lip Sync Battle last year, alongside his wife, Jenna Dewan-Tatum.
Oh, and because Tatum has become so adept at channeling Elsa, the couple's daughter has actually kind of started to conflate the two. During an interview with Entertainment Weekly, Supergirl's Melissa Benoist explained,
[Dewan-Tatum] told me when they were rehearsing, what she was planning on doing. I think her and Channing didn't tell each other. But she did tell me that now their daughter knows that's daddy's dress, the 'Frozen' dress.
OK, so the above is definitely a really, really enjoyable performance – but it doesn't quite live up to Tatum's "Pony" dance. Because, literally, nothing ever will.
Or, for that matter, Dewan-Tatum's "Pony" dance...
Basically, the moral of the story is that Tatum and Tatum-Dewan are the best, and everything they do is sexy and cool. Blonde wig, painted abs, and all.