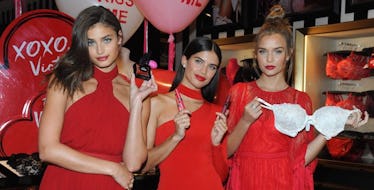 Victoria's Secret Angels Share The Sexiest Gifts To Give This Valentine's Day
REX/Shutterstock
When you're as single as I am, Valentine's Day is definitely the last thing on your mind when February 14 rolls around.
Seriously, I'd rather think about pretty much anything except passionately kissing a man and lying in a field of rose petals.
That's what people do for V-Day, right?
Well, I got the chance to speak with Victoria's Secret Angels Josephine Skriver, Taylor Hill and Sara Sampaio about Valentine's Day, and they totally changed my mind about this holiday.
They gave me some pretty great gift ideas, too, so boys, take notes.
The ladies all agreed Valentine's Day doesn't necessarily have to be romantic — you could (and should) simply spend it celebrating the love you have for your friends and family.
HMM, I HAVE FRIENDS. I HAVE FAMILY.
Talk to me, girls. Give me your wisdom.
Josephine Skriver, 23, was the first to open up about what Valentine's Day means to her.
She told Elite Daily,
Honestly, I grew up in a country where we didn't celebrate Valentine's Day, but it was such a world phenomenon, so for me it's always been a girls day. It's always been about the girls and celebrating the girls in your life. Yes, sometimes one will have a boyfriend, but for me, the most important people to give gifts to are my girlfriends because they should get spoiled, and that's why Victoria's Secret is so great because we have so many things this year.
Wait, so you're telling me I should just eat candy in my underwear all day and watch movies with my friends?! Hell yeah, V-Day sounds better than Christmas.
Josephine also said Valentine's Day is the best time to spoil yourself, especially at Victoria's Secret. She explained,
We have the Tease fragrance; it's super flirty and we have the velvet matte lipsticks. I'm such a tomboy, I forget I'm wearing makeup, but these things stick, so when I'm up on a plane I don't dry out, so this is what I'm sending to all of my girlfriends this year. But I think as a girl, you should be out celebrating each other, get each other gifts, go have a girls' spa day, go enjoy being a girl and be like, 'Girl power!' I think that's what it's all about. Go dress up and have fun.
OK, so, not gonna lie, I tried the Victoria's Secret matte lipstick collection and it's honestly the bomb.
The shades are so vibrant and the color stayed on my lips all night long. I have all the colors because I'm seriously obsessed.
Nice choice, Josephine.
The model also suggested you spend your day doing something active. She added,
It doesn't have to be glamour-fancy for me: Let's go trampoline jumping, something active, beat me in some game, go to the amusement park. I like to be active and adventurous.
LADIES, grab your sneakers. We're going on an adventure.
Taylor Hill — like Josephine Skriver — said a fragrance is the way to go on February 14.
The 20-year-old explained,
I think for me I'd say, if I was a boy and I walked into Victoria's Secret, I would be like, 'Where do I start?' It can probably be a bit intimidating. I would just say, as a girl, go more toward fragrance. First of all, there are so many to choose from at Victoria's Secret. It's just a really great gift. It's super easy, it's super neutral, you won't feel overwhelmed by all the colors and styles and different cuts. I think it's a good balance of getting something really special from Victoria's Secret and shows you really care about her, and you went there, and then also it lasts a long time and sends trigger memories.
OK, that's great if I have a boyfriend, Taylor. But what can I get myself?! The model said,
Shoes!
Fair enough. DSW, here I come!
Oh, and if you need ideas of what to do on February 14, Taylor's got you covered. She told Elite Daily,
For me, it's going to a movie and having pizza or something and popcorn. It's so much more fun that way.
Guess I'm gaining 25 pounds this week.
Last, but certainly not least, Elite Daily spoke with 25-year-old Sara Sampaio about her advice on what to wear this Valentine's Day.
The Victoria's Secret Angel shared,
Definitely buy lingerie — I'd go with red. Red always gives you an extra boost of confidence, I feel like, it's a powerful red. When you're wearing red you're gonna get noticed — and a red lip. I feel like it's me day. I'm gonna feel confident, so I'm gonna wear a red lipstick. It really makes your whole oufit pop.
Damn, I've got a lot of shopping to do.
Be sure to check out the full Victoria's Secret Valentine's Day gift guide online.
Happy V-Day, everyone!