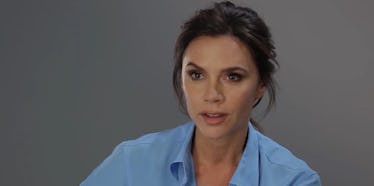 Victoria Beckham's One Regret From Spice Girls Era Proves She Has It Made
YouTube
Victoria Beckham is the definition of success.
Like, I'm pretty sure if you look up "success" in the dictionary, it's just a picture of Victoria Beckham on the page.
I mean, homegirl's got the Spice Girls, David Beckham and her own designer fashion line under her belt, and she's only 42 years old.
But even insanely successful people like Victoria Beckham have regrets.
Admittedly, they are super privileged, trivial regrets. But regrets nonetheless.
Victoria revealed one such regret from her Posh Spice days in a recent ad campaign for British Airways: She regrets not seeing more of the world when she was younger.
Victoria explained that while she traveled the world with the Spice Girls in the '90s, she didn't actually get to see much of it.
She said,
That's the one thing that I wish I'd done more of when I was younger and I was with the Spice Girls. We traveled so much, but I didn't get out, I didn't see enough. So that's what I'm really trying to do more of as I get older.
Then she goes on to talk about how British Airways changed her life, blah, blah, blah. This is a commercial, after all. That's why this fairly basic interview has such weirdly intense music over it.
But anyway, as far as regrets go, this one seems pretty fixable, considering Victoria Beckham has a shit ton of money with which she can travel as she pleases.
(Though to be fair, her four children might slow her down slightly.)
But we know this isn't the only regret Victoria has in life.
The former Spice Girl recently admitted in a letter to her 18-year-old self for British Vogue that she regrets getting her plastic surgery (and regrets lying about it).
She wrote,
And I should probably say, don't mess with your boobs. All those years I denied it – stupid. A sign of insecurity. Just celebrate what you've got.
Celebrate what you've got and travel if you can — two very wise pieces of advice from the great Posh Spice.