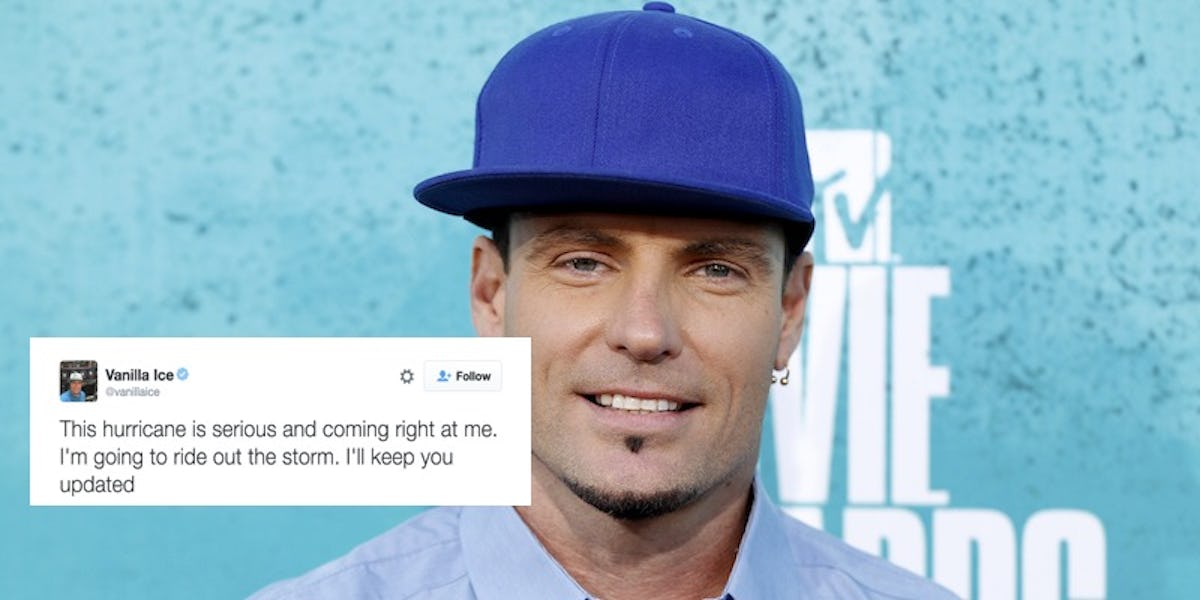 Vanilla Ice Is Live-Tweeting The Hurricane From Florida And We're All Scared
REUTERS
You can't make Vanilla Ice do anything he doesn't want to do, not even if you're Hurricane Matthew.
OK, fine, I'm wrong.
You can't make Vanilla Ice do anything he doesn't want to do UNLESS you're Suge Knight.
Otherwise, even if you're a strengthening hurricane like the one headed toward Florida, Vanilla Ice won't budge.
The 48-year-old star has made it loud and clear that he will not be evacuating his Palm Beach home as Hurricane Matthew makes its way toward Florida.
Instead, he'll stay put and live-tweet the entire thing.
Now, as boss of a move as this might seem, let's be real clear that Governor Rick Scott has been pretty vocal about the fact that Hurricane Matthew is no joke, and that if you're in its path, you should probably get moving.
In addition, this particular hurricane is literally being called the worst storm in modern history.
Governor Rick Scott spoke to reporters about the storm, warning,
There's no question this is serious. This is a dangerous storm. The storm has already killed people. We should expect the same impact in Florida.
Despite the fact that the storm has graduated to a Category 4 hurricane, this isn't stopping Vanilla Ice, whose real name is Robert Matthew Van Winkle.
Maybe it's because they kinda-sorta have the same name?
Maybe Ice thinks he can talk some sense into Hurricane Matthew... Who knows!
Vanilla Ice took to Twitter to let his fans know about his brave decision to stay home and "ride out the storm."
He's not going anywhere.
You might want to follow Mr. Ice on Twitter if you haven't already.
Other celebrities tweeted about the treacherous storm, too.
Nicki Minaj chimed in.
Ben Stiller spoke on the matter.
Reese Witherspoon offered her prayers.
NBC's Lester Holt updated his followers with a photo of him and his crew landing in Orlando to cover the storm.
If you happen to be in Hurricane Matthew's path yourself, I'd strongly suggest that you take the advice from officials and law enforcement -- it could save your life. Vanilla Ice is his own man.
#PrayForFlorida.
Citations: Vanilla Ice Riding Out Hurricane Matthew at Palm Beach Home, Live Tweets During Storm (Entertainment Tonight)