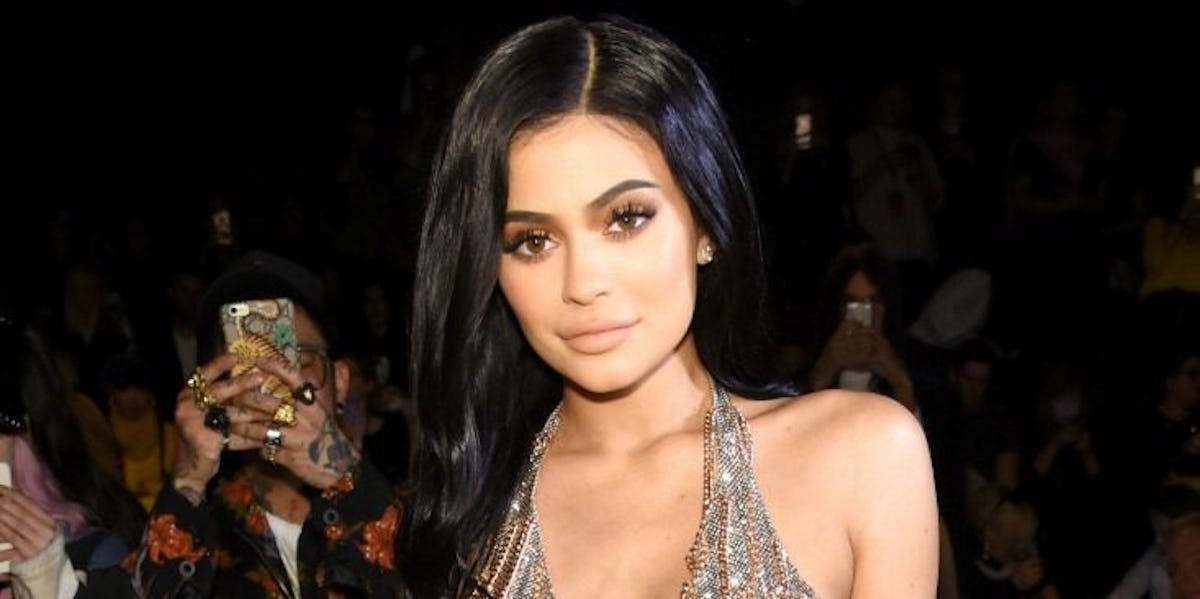 Tweets About Kylie Jenner's Reported Pregnancy Will Have You Freaking Out
Jamie McCarthy/Getty Images
If you haven't already gotten your daily dose of Twitter just yet, you're certainly about to experience all the FOMO feels when you read this. Let me fill you in: Kylie Jenner is currently trending on Twitter. Why, must you ask? Well, she's the real MVP. But, the golden question of the day running through all of our minds is if Kylie Jenner is pregnant. According to an article published by TMZ, Jenner is reportedly expecting Travis Scott's baby. Yes, you heard that right... and these tweets about Kylie Jenner reported pregnancy will have you freaking the f*ck out along with the rest of the Twitter world. Social media cannot EVEN handle this reported scoop at the moment. Are you ready for the lowdown?
Elite Daily reached out to Kylie Jenner's and Travis Scott's teams for confirmation and comment, but did not hear back by time of publication.
On Sept. 22, aka the official first day of fall, TMZ published an article claiming the 20-year-old reality TV star is reportedly pregnant with 25-year-old Scott's baby. Additionally, the outlet says Jenner and Scott are expecting to have a girl, "although we cannot verify." According to TMZ,
Sources also say Travis Scott, Kylie's boyfriend, has also been telling his friends. We're even told — although we cannot verify — that he's told friends they're having a girl. One source says Travis was at a recent event telling people about the pregnancy and how his life was going to change.
When commenting on the Life of Kylie star, a source reportedly revealed to Page Six, "She has been looking pregnant for about four months." In addition, according to Page Six, the couple reportedly began dating in April. According to Page Six,
Jenner has not been seen at public events lately and has been posting older shots on Instagram. Other pictures of her have been cropped.
Needless to say, the social media world is going absolutely wild over today's reported news. One Twitter user, @SadiaSallySamas, is extremely skeptical about the entire reported scenario at hand, tweeting, "Is Kylie Jenner really pregnant or is she just a bit salty with all the attention Fenty Beauty/Puma has been getting recently". Another Twitter user, Anne T. Donahue, who's down with cracking the jokes, tweeted, "if Kylie Jenner's baby doesn't come out holding a new shade of lip kit i am fucking done with that family."
Real talk: Cue all the memes, and keep them coming. We can always count on Twitter to be hilarious AF, amiright?
I don't know about the rest of you, but this cat truly speaks to me on a different level.
One Twitter user decided to invite Tyga to the party, tweeting, "Tyga when he finds out Kylie Jenner is pregnant with Travis Scott's child."
Another person tweeted, "I'm boutta make an ig page called "KYLIE JENNER's UNBORN CHILD" and see how many followers I can get." Truth, though.
And this user was just trying to catch up on some snooze time, only to wake up to this Twitter frenzy.
They tweeted, "I took a nap and woke up to Kylie Jenner being pregnant? I feel like I slept my way into an alternate timeline."
I took a nap and woke up to Kylie Jenner being pregnant? I feel like I slept my way into an alternate timeline — Sarah (@_queenfrosting) September 22, 2017
Seriously, though, I think we can all hardcore relate to this gem.
This Twitter user is all about the next season of Life of Kylie, tweeting, "Kylie Jenner is pregnant? Season 2 of her reality show bout to be lit!!"
And last but not least...