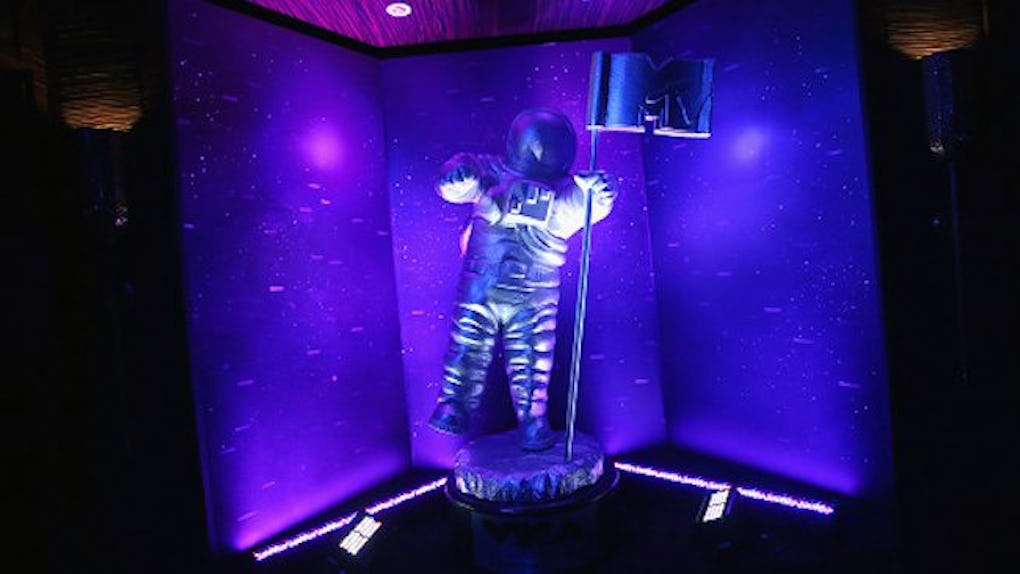 Tommaso Boddi/Getty Images for MTV
Trans Military Members At VMAs Share Uplifting Message: "Keep On Marching"
On Aug. 27, 2017, transgender military service members walked the MTV VMAs red carpet to spread messages of inclusivity and love amid Trump's trans military ban. The service members walked with GLAAD President Sarah Kate Ellis and the LGBTQ military group SPART*A, and had the chance to speak with Elite Daily about what it means for them to be here today. Retired Army veteran Laila Ireland explained why having trans military members at the VMAs is so important:
You know, being here, historically at the VMAs, has been a platform to social issues and with us being in the trans military, sharing our stories like everyone else, I hope our stories are able to inspire other young folks to be able to stand up and share their stories to pave a way that is so inclusive and diverse that we don't have to worry about things like this.
Ireland served for 12 years in the United States Army and served two combat tours in Iraq. Laila and her then fiancé, Staff Sergeant Logan Ireland, came out together as transgender service members in the New York Times short film, Transgender, at War and in Love. When asked about what message they hope to send to the trans youth by walking the VMAs red carpet, SSgt Logan Ireland commented,
Just continue to stand up for your rights, serving in the military is a great way to do that ... and eventually, they [the trans youth] will be able to do that ... just keep on marching and staying positive.
The couple also discussed how celebrities have been using their platform to advocate for the LGBTQ community. Ireland explained P!nk, Kesha, and Katy Perry are notable stars:
These are celebrities who are speaking out and using their platforms and we really appreciate that.
A special thank you to Laila, Logan, and all the other transgender military members for attending the VMAs and sharing their stories.