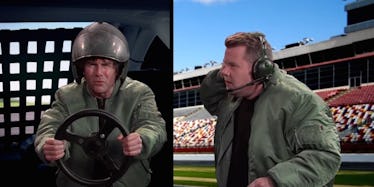 Tom Cruise Is Finally Cool Again As He Recreates His Movies With James Corden
CBS
OK, fine. Tom Cruise will never be "cool" again, per se.
A cocktail (LOL, GET IT?!) of bizarre public outbursts, an illogical fear of galactic dictator Xenu and a marriage to actress Katie Holmes rumored to have failed due to Tom's oppressive ties to the Church of Scientology caused the actor to lose much of his reliability in the eyes of the public.
Still, Hollywood decided to keep him around for at least another "Jack Reacher" movie, namely the sequel coming to theaters this week, and he made an appearance on "The Late Late Show with James Corden" to promote it.
On Wednesday night's episode, Tom joined host James Corden in a live reenactment of scenes from his most memorable films.
Seeing Corden steal the show as Dustin Hoffman's character from "Rain Man," Jack Nicholson's character from "A Few Good Men," Emily Blunt's character from "Edge of Tomorrow" and a random suspect from "Minority Report" makes it clear no amount of auditioning could secure Tom the fun roles.
Except for maybe this one.
SPOILER, BTW: "American Horror Story: Roanoke" star Cuba Gooding Jr. reprises his Academy Award-winning role as Rod Tidwell and, for a moment, it's 1996 all over again.
Corden's show wasn't Tom's only late night TV appearance this week. On Tuesday, the 54-year-old stopped by "Jimmy Kimmel Live!", where he admitted his performance in the 1986 film "Top Gun" allowed him to explore his lifetime dream of being a pilot.
Tom told the host,
I've always wanted to fly airplanes my whole life... We did all the training, and then came the day that we've got to fly... But the guy who flew me in the first flight, his name was Bozo. The pilot's name was Bozo! So, I'm strapping in, we're getting in there, and you just see the helmet go on that says 'Bozo.' I'm like, 'Bozo?' ... He's going through the check sheet... and there's all these lights on, emergency lights and everything... We're about to take off and I remember saying, you know, 'Bozo, these lights... There's a lot of red lights.' He's like, 'Oh, yeah, yeah, yeah.' He starts turning them off. I'm like, 'OK.' He's like, 'They don't call me Bozo for nothing.'
LOL! Oh, Tom. Near death experiences are fun.
Citations: Tom Cruise Re-creates His Most Famous Roles, From 'Top Gun' to 'Risky Business,' With James Corden (Us)