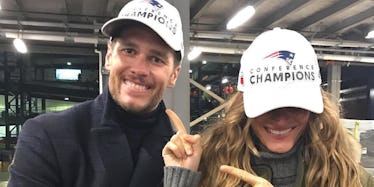 Gisele Bündchen's Post Congratulating Tom Brady Is True Relationship Goals
Instagram
All of the so-called "fans" who prematurely left NRG Stadium during Super Bowl LI and doubted the Patriots early on likely feel pretty silly today.
Super Bowl legend Tom Brady (somehow) came out on top after Sunday night's big game against Matt Ryan and the Atlanta Falcons.
While many people counted Brady and the Pats out before the second half, there's one special person who never did. Of course, that special person is Tom Brady's wife of almost 8 years, Gisele Bündchen.
The 36-year-old Brazilian supermodel recently took to Instagram to gush over her husband's triumphant Super Bowl victory in a heartfelt post.
The post, which racked up over 600,000 likes, reads,
Wonderful things come to those who work hard with focus, tireless dedication and who never stop believing. Forever grateful for this moment. Congratulations, my love!
Man, if that isn't the sweetest thing I've heard all day, I'm not sure what is.
Here's Gisele Bündchen's latest Instagram post congratulating husband Tom Brady on his epic Super Bowl victory.
This should be everyone's #RelationshipGoals right here.
Not only did Brady overcome all odds posed against him, but his supermodel wife was right there to embrace the win with him when he did. In addition to Gisele, Brady's two children Benjamin and Vivian were also in attendance.
I'll be honest, though. I'm not even a little bit surprised the Pats pulled it off. I don't think Tom was, either. During his post-game press conference, Brady admitted,
We weren't down at all. I mean, we were disappointed in the way we played and knew that we could go out and do a lot better in the second half.
That's exactly what they did.
With a support system like the one pictured below, it's not too hard to see what likely inspired Brady to go out, overcome adversity and break the record for the NFL quarterback with the most Super Bowl wins EVER.
Life's looking pretty sweet for #12 right now.
Citations: Gisele Bundchen Gushes Over Tom Brady After Super Bowl 2017 Win: 'Forever Grateful' (Us Weekly)