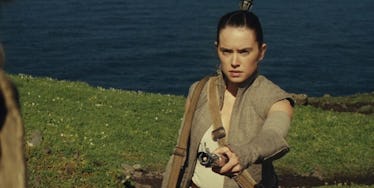 This Tiny Detail In The New 'Star Wars' Teaser Revealed A Major Spoiler
Disney
Disney's CEO just released some insane footage from "Star Wars: The Last Jedi"
SPOILER ALERT! MASSIVE MASSIVE MASSIVE SPOILER ALERT! IF YOU CARE AT ALL ABOUT SEEING "STAR WARS" WITH A PURE AND UNSPOILED MIND CLICK OUT NOW!
Here, this is a recording of Billy Joel singing "Scenes from an Italian Restaurant" live at Yankee Stadium in 1990. It's like seven-minutes long, which should give you enough time to find a new non-spoiler tab to open.
OK, spoiler time.
Bob Iger, who is Disney's CEO, reportedly played some new footage from "Star Wars: The Last Jedi" for a few people at the company's shareholder retreat in Denver.
While most of the clips were supposedly pretty unimportant there was one major plot reveal that came out during the screening involving Rey and her origin story.
LA Times reporter Daniel Miller tweeted:
Rey's origin story is one of -- if not THE -- biggest mystery left over from the first movie. We don't know much about her parents or where she came from, only that she was left stranded on Jakku and has Jedi powers.
The latter of those facts and the similarities between her and Luke made it at least seem like Rey was probably from his lineage in some capacity.
Luke asking who she was could mean one of four things:
He could still be her father but just didn't recognize her because she was stranded as a little kid. This is highly unlikely, though, as Luke would have 10,000 percent figured out who she was through his Jedi powers and just the context of the situation.
SHE IS OBI0WAN'S GRANDDAUGHTER?!?!?!?!??!
She is just another Jedi, with no connection to Luke, Obi-Wan or their families. She was stranded on Jakku as one of the remaining Jedi, waiting to find purpose for her powers.
She could be a clone of the late emperor.
Only time will tell which one of these facts makes it into the movie series.
On an unrelated note: The movie looks great!
"Star Wars: The Last Jedi" is being directed by Rian Johnson and is set to smash into theaters on December 15, 2017.
Citations: Disney teaser reveals a 'Last Jedi' spoiler (Mashable)