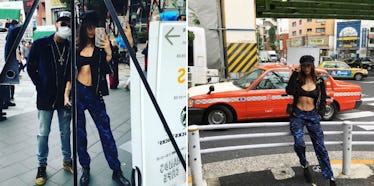 The Weeknd Finally Posted A Selfie With Bella Hadid And Her Abs Are Unreal
Instagram
You wouldn't know it by following The Weeknd on Instagram, but the 26-year-old Toronto-born rapper is in fact dating the gorgeous Bella Hadid.
Recently, though, The Weeknd either slipped up or was feeling froggy or who knows what and posted a sexy Instagram picture of himself and Bella Hadid in Tokyo.
The superstar couple was apparently chilling in the posh Harajuku district of Tokyo, obviously looking goals AF.
As you can see in the photo above, Bella took a selfie, and she was definitely showing off her ridiculous abs. Like, are those even real? Bella Hadid is the epitome of beauty, really, but you still have to stop and marvel at the 19-year-old's unreal abs.
It's not like The Weeknd wasn't looking proper in his velvet jacket, distressed jeans, fly kicks and trucker hat, but the "Starboy" ain't nothing compared to his girl, Bella Hadid.
Also, what's good with the surgical mask? Like, why isn't Bella wearing one? You'd think she might ask her boyfriend what he knows that she doesn't, but whatever.
Also, in addition to her scandalous abs, can we talk about Bella Hadid's blue camouflage print pants? I don't know about you, but I needs me a pair of these.
Though he doesn't post too many pictures with Bella on IG, The Weeknd did open up about his relationship in a 2015 interview with Rolling Stone, saying,
I actually asked her to be on the artwork for Beauty Behind the Madness. My motive was literally to work with her.
He continued,
I was like, 'All right, cool — we can meet up face-to-face.' It just kind of fell into my lap. If this had happened two years ago — well... she couldn't.
It's all about being in the right place at the right time, isn't it?
Props to The Weeknd and Bella Hadid, who are clearly madly in love and realize the key to a healthy relationship is staying as far away from social media as possible.
Citations: The Weeknd Shares Rare Pic With Girlfriend Bella Hadid in Japan (Us Weekly)