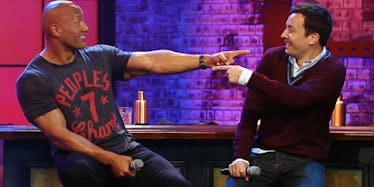 The Rock Completely Owns Jimmy Fallon With 'Shake It Off' Lip Sync (Video)
Last night was the first episode of "Lip Sync Battle" on Spike. The show, of course, is a spinoff of Jimmy Fallon's popular lip-sync segment on his talk show.
The first installment of the series saw Dwayne "The Rock" Johnson mouthing along to Taylor Swift's instant classic "Shake it Off."
The Rock went hard in the paint with this one. He went so hard, in fact, that he flipped off Jimmy Fallon while fake singing the track.
Also, Chrissy Teigen is the cohost of this show and can be seen dancing along in the background, so that's worth the price of admission.
Check out the clip below.
Citations: Dwayne Johnson Lets Loose in Epic Lip Sync Battle With Jimmy Fallon (The Wrap)