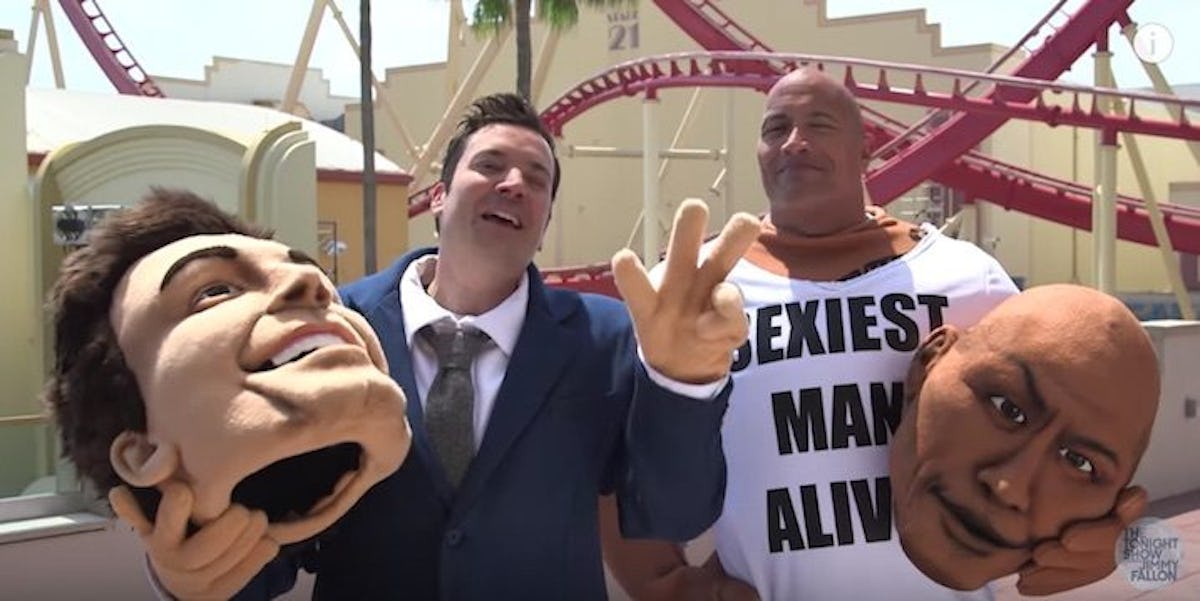 The Rock And Jimmy Fallon Surprised Fans At Universal And Made A Grown Man Cry
YouTube
I'm seriously starting to wonder whether the antidote to every evil in this world resides in Dwayne "The Rock" Johnson's blood cells.
I once called the man "a delicious slab of buttery dude meat" in a very biased (but also somehow irrefutably factual) article and he thanked me in a shoutout on his Instagram because he is easily the classiest person to exist since whoever started putting bathrooms indoors.
I should note that none of my personal accomplishments to date have drawn that much praise from friends, loved ones and barely-acquaintances than this shoutout, because The Rock is for everyone.
In a segment on "The Tonight Show," host Jimmy Fallon joined the "Baywatch" star in dressing up as plush, big-headed versions of themselves to compete for hugs and selfies at Universal Studios.
Once the competition was over (The Rock let Jimmy win), they stopped by the new "Tonight Show" ride, Race Through New York, to take photos with unsuspecting families.
After each picture, the pair popped off their fake heads and revealed their true identities.
Jimmy might have won the "Race Through Universal Studios" segment, but the real winner of the day was the guy who admitted TO THE GIANT PLUSH HEAD of The Rock that our boy Dwayne Johnson has been his hero since he was 5 years old.
The man's reaction when The Rock pulls off his fake head to reveal his true, gorgeous, probably very smooth face underneath is the only appropriate way to respond: full-on tears and a tattoo reveal.
Yup. That guy -- possibly the most intensely committed Dwayniac among us -- has a Dwayne "The Rock" Johnson tattoo. You know, like we all probably should.
Once again, our love for Dwayne is not only justified, but grows brighter and stronger than ever before.
Stay impossibly perfect in every goddamn way, DJ.