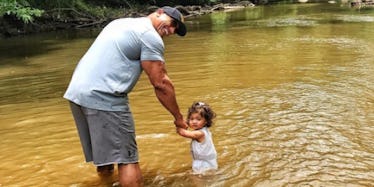 The Rock Posts Sweet Pic With His Daughter And The Caption Will Melt Your Heart
Instagram
While I stuffed my face with cheeseburgers and sour cream and onion chips this past Memorial Day, The Rock was adventuring through a river with his daughter because normal people typically spend time in nature on the weekends.
The Rock had some time off this weekend before having to head back to work, so he spent that time with family. More specifically, his daughter Jasmine, who is literally the cutest baby I have ever seen and is also, like, the size of one of The Rock's biceps.
Seriously, look how tiny she is next to him!
I can't.
Johnson loves to post gushy things about how much he loves his daughter.
Earlier this year, he posted a picture of him and Jasmine sitting on a front porch where he detailed how her life is going to go.
The caption read,
Jazzy, let daddy tell you his goals. By 5, you'll be looking people in the eye when you firmly shake their hand. By 8, you'll know how to fish, drive daddy's pick up truck and do cardio. And by 10, you'll be able to directly say to people, "Great job, I like it a lot, but let's see how we can make it better". Helluva plan right sweetheart?
WHAT A DAD.
And on Memorial Day, he posted a picture of him and Jasmine literally walking through a giant river, and it was apparently all Jasmine's idea.
The caption read,
She grabbed daddy's hand and started pulling me right down the middle of the Chattahoochee. Fearless lil' human. My heart's filled with gratitude for being able to spend this day with my family before I jump on a bird and head to Germany tonight for work. Boundless love and respect to the brave men and women who sacrificed it all for their country and family, so I can love and protect my own. Enjoy your Memorial Day. You guys have some fun and spread that positive energy, gratitude and love with your family and friends today. #grateful #respect
That baby is waist-deep in a river and she has no fear in her eyes. And that, ladies and gentlemen, is how you know she is an offspring of The Rock.
Citations: Dwayne Johnson's Daughter Might Just Be Moana in This Precious Pic: 'Fearless Lil Human' (Entertainment Tonight)