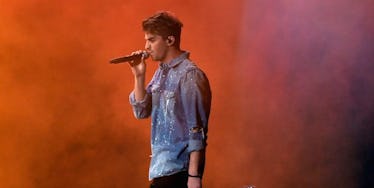 The Chainsmokers Won The 2017 BBMAs With Their Performance Of 'Young'
Ethan Miller/Getty Images
This year's Billboard Music Awards showcases a ton of hot talent we simply cannot get enough of.
Along with Queen Bey, Rihanna, Justin Bieber, and more, The Chainsmokers are nominated for Top Artist.
Who will walk off the stage with the title? It's certainly going to be a difficult choice with all of this top-notch talent, that's for sure.
And that number one, go-to jam we blasted on repeat in car last summer? The Chainsmokers' "Closer," is up for a few nominations as well. If you ask me, it's certainly well-deserved.
So baby pull me closer in the backseat of your Rover That I know you can't afford Bite that tattoo on your shoulder Pull the sheets right off the corner Of the mattress that you stole From your roommate back in Boulder We ain't ever getting older
That song chilled at the top of the Billboard Top 100 for almost three whole months.
As a matter of fact, this hot hit walked away with the title of "Best Collaboration" tonight, with our main girl Halsey.
When it comes down to it, we can always count on The Chainsmokers to give us what we want. Whether it's a hit to turn up while sipping beers at the beach (with those "sun's out, guns out" vibes), or a song to get us all pumped up at the pregame, they never disappoint.
Their 2017 Billboard Music Awards performance is nothing short of exceptional. Let's be real here: Drew Taggart singing "Young" with the clouds rolling in the background on cue gave all of us so many feels through the TV.
Everybody in the audience was hardcore feeling the beats and swaying, like the rest of us *casually home chilling on our couches* that didn't get the invite to this epic affair. But, we still enjoyed it just as much.
You the real MVPs, Chainsmokers.