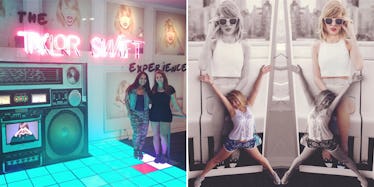 An Entire Museum Exhibit Dedicated To Taylor Swift Is Coming To NYC
Instagram
Taylor Swift fans, rejoice! There's a new museum exhibit entirely dedicated to the 1989 singer, and it's coming to New York!
Nope, you're not dreaming. This is real life and you can get tickets.
"The Taylor Swift Experience" is based at the Grammy Museum in Los Angeles but heading to the Big Apple just for East Coast fans.
Once you step inside the exhibit, you'll come face to face with the piano she used to perform on her RED tour. Make your way up the stairs and you'll find collections of handwritten lyrics, home videos and more.
The exhibit first opened in LA on Taylor's 25th birthday, December 13, 2014, so it's been around for almost two years now.
New Yorkers will have the chance to attend "The Taylor Swift Experience" from November 18 through February in the South Street Seaport exhibit.
I AM SCREAMING INSIDE! THIS IS THE BEST NEWS OF MY LIFE!
I've never been to the exhibit, but it looks dope. These girls are in heaven.
LOOK AT HOW INTERACTIVE IT IS! You're telling me I have to wait a month to try this?!
I'LL GET TO SEE ALL HER OUTFITS FROM THE TOUR?
I'LL GET TO SEE HER BABY PHOTOS?!
Not gonna lie, the museum might actually kill you. Bring lots of water, a fan and maybe a friend who can call 911 if necessary.
Someone should check on this girl.
Oh, and don't forget a camera. There will be lots of awesome photo ops, so be prepared to find your next Facebook pro pic.
By the way, tickets are only nine dollars and can be purchased on Ticketmaster right now.
BUY THEM FAST BEFORE IT'S TOO LATE. HURRY, YOU'RE RUNNING OUT OF TIME!
Welcome to New York, Taylor Swift museum! It's been waiting for you.
Citations: The Taylor Swift Experience (NY Mag)