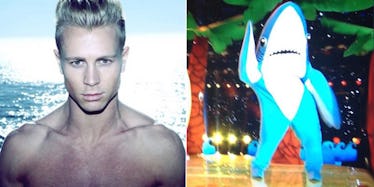 One Of Katy Perry's Dancing Sharks Is Actually An Insanely Hot Guy (Photos)
On Sunday evening, America had only one question: Who is wearing the dancing shark suit?
During the 12 minutes of pop queen Katy Perry's Super Bowl halftime show, the standout performance on stage came from two human-sized standing sharks dancing on either side the star.
While one (ahem, left shark) didn't seem to know his dance moves, the other kept up pace brilliantly.
The investigative journalists at the Washington Post did some very important digging, revealing the right shark was none other than LA-based dancer Scott Myrick, whose Instagram bio describes him in three words: "charming as f*ck."
It turns out that buried beneath the bulky fins of a shark lay chiseled six-pack abs, a beaming white smile and blonde hair with enough flow to make you swoon.
Meet Scott Myrick, dazzler and shark extraordinaire.
Professional dancer Myrick has hung with Perry's crew for years.
He even performed with Perry at 2012's DirecTV Super Bowl Party.
He's a fit, blue-eyed dancer who loves posting on Instagram. And that's just fine, because it takes incredible dedication to look like this.
Did I mention he's good looking, talented and casually uses "slay" on social media?
When the Super Bowl came around, Perry picked Myrick to take the pivotal role of a dancing shark.
I MEAN..... THOSE SHARKS #ONFLEEK — Scott Myrick (@Scott_Myrick) February 2, 2015
And that everyone, is what it feels like to have your heart explode. I've never been more proud to be a part of something in my life. — Scott Myrick (@Scott_Myrick) February 2, 2015
Tonight was a feeling and moment in time that I will never, ever forget. Thank you for all the support everyone. — Scott Myrick (@Scott_Myrick) February 2, 2015
Twitter was quick to support the sharks.
@Scott_Myrick was that you pic.twitter.com/Qd87fUanh5 — kelly~THANK U SCOTT (@katythebae) February 2, 2015
DATS RIGHT RT @AverageLifeGoal: Career goals: pic.twitter.com/Zt2ECto7G6 — Scott Myrick (@Scott_Myrick) February 2, 2015
Myrick thanked Perry for her cartoon-inspired Super Bowl performance.
Just as mother promised, thank you queen @katyperry! pic.twitter.com/2WjlaKFegq — Scott Myrick (@Scott_Myrick) February 2, 2015
Citations: The Guy Who Was One Of Katy Perryu2019s Dancing Sharks Is Actually Very Hot (BuzzFeed)