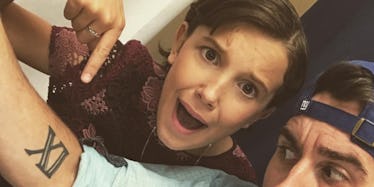 Eleven From 'Stranger Things' And Neville Longbottom Hung Out And We Can't Deal
Instagram
Let the fanfic begin!
For those of you that have been nightly praying to the spirit of Albus Dumbledore that Eleven from "Stranger Things" is secretly a witch who just has a perpetual nosebleed, throw away your bible that is "The Sorcerer's Stone" and rejoice!
Why? Because Eleven and Neville Longbottom from "Harry Potter" hung out and not in the fictional sense.
Millie Bobby Brown and Matthew Lewis met up IRL, and the Internet lost it. They lost it so hard they probably needed Neville's Remembrall to remember where to find it.
Behold the Instagram post to end all Instagram posts.
Wait a second! And if you can't wait a second, use a Time-Turner and reverse it back to when you were looking at the above picture.
Neville is such a huge fan of Eleven that he got a tattoo based on her name. Sorry, everyone who has a Netflix account (aka everyone), but Matt is the biggest "Stranger Things" fan of all time.
This "XI" tattoo is an X out of X. Oh, I'm sorry... you're not fluent in Latin like me (I'm totally not)? I mean, this tattoo is a 10 out of 10.
Of course, we can't be entirely sure he's not joking (*cough, he probably was, cough*)... but deep down, I trust anyone who destroyed a Horcrux.
AND NEVILLE FUCKING LONGBOTTOM DESTROYED A HORCRUX.
Oh, did you forget? Neville killed a snake that had a soul of a man trapped inside it.
What did you do today?
It's totally Millie's turn to get a tattoo of Neville. Maybe she can use a photo of his face and ink that over her own?
I'm... I'm sorry. This is a horrible idea. Don't listen to me, Millie.
I mean, chances are I will probably be getting a tattoo of this Instagram post above. Who's with me?
Fair enough.
Citations: Neville Longbottom And Eleven From "Stranger Things" Is The Fandom Crossover We Never Knew We Needed (Buzzfeed)