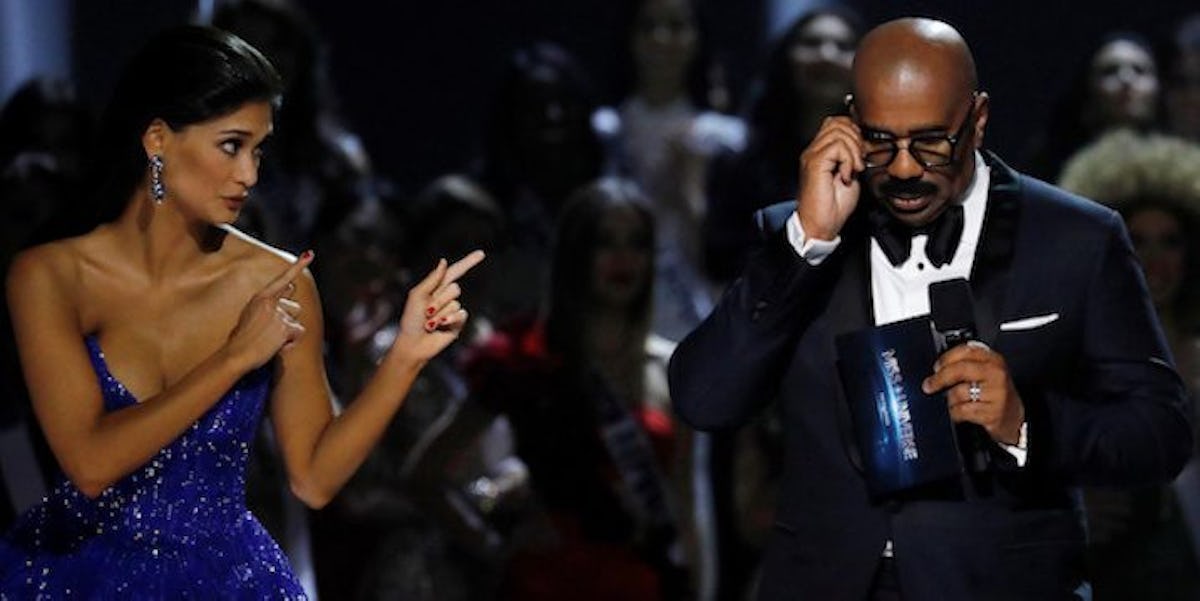 Steve Harvey Was Trolled In The Best Way Before Announcing New Miss Universe
REUTERS
Do you remember that cringeworthy moment during the Miss Universe Pageant in 2015?
You know, it was the one where Steve Harvey crowned the wrong contestant Miss Universe, giving Miss Columbia the title instead of Miss Philippines.
Ah, yes. It was a mortifying moment for both contestants, and of course, Steve Harvey.
Well, karma's quite the bitch, and Miss Philippines -- aka Pia Wurtzbach -- completely trolled Harvey before he announced the winner of this year's pageant.
Before announcing the winner for Miss Universe 2016 on Monday night, Wurtzbach walked on stage and approached the host.
Seconds later, she handed Harvey a pair of thick reading glasses to ensure he'd read the correct name off the card, unlike what he did when she won the pageant.
BOOM.
Hey, at least she has a great sense of humor, right? At least, the crowd thought so.
After handing over the glasses, Wurtzbach gave Harvey a hug and a kiss on the cheek, and he put the glasses on in preparation for the big moment.
He replied,
Thank you so much, Pia... a year late, but thank you.
Revenge is sweet, isn't it? I'm proud of you, Pia!
For those of you who missed out on 2015's horrific Miss Universe fail, here are the key details.
Harvey crowned Ariadna Gutierrez -- aka Miss Colombia -- the first place winner of the pageant. She was showered with flowers and given a sash as she waved to the audience and embraced her special moment.
However, seconds after crowning the wrong woman, Harvey realized the true winner was Pia Wurtzbach, who was acting as Miss Philippines.
Upon announcing his blunder, Pia looked thankful, yet mortified, and accepted the award.
It looks like she got some revenge with last night's prank.
Oh, and in case you're wondering, the glasses helped. He announced Miss France as the true winner without a single mishap.
Thanks, Pia!