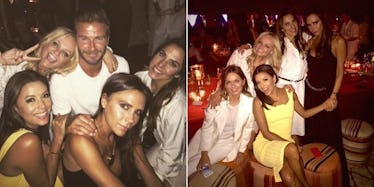 Stop Right Now: This Spice Girls Reunion Is Absolutely Everything (Photos)
Prepare for a case of FOMO like you've never felt before because this weekend brought a semi-Spice Girls reunion.
Just in time for David Beckham's May 2 birthday, his wife Victoria (formerly known as Posh Spice) invited her favorite former band members to reunite – further proving "friendship never ends."
Emma Bunton (Baby Spice), Melanie Chisholm (Sporty Spice) and Geri Halliwell (Ginger Spice) posed for a series of snapshots with tablemate Eva Longoria, who was clearly just as excited as the rest of us.
The only Spice Girl missing was Melanie Brown (Scary Spice), who'd posted a costumed Instagram flashback just days before.
Although none of this evidence leads us to conclude the girls have plans to reunite, it's enough to know they hang out in their free time.
It's still a "Spice World," after all.
Longoria smiled for photos with all of her favorite former Spice Girls.
Victoria captioned this, "Spice Girls in Marrakech!"
Bunton and Chisholm showed they're close as ever.
Girl power!
And there's even a photobomb by the Beckhams' son, Brooklyn.
The makeshift reunited Spice Girls posed with the birthday boy, David.
Scary Spice wasn't in attendance, but she seems to have been feeling nostalgic recently.