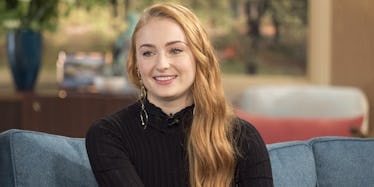 Sophie Turner From 'Game of Thrones' Says Her Wolf Tattoo Is Not Even Real
REX/Shutterstock
So, those super cool tattoos Sophie Turner has been photographed with? They're super fake.
The 20-year-old "Game of Thrones" star revealed a fun fact about all of the body art she recently added to her left arm during an interview with Entertainment Tonight at Variety's Young Hollywood event in Los Angeles this week.
It turns out Sophie Turner's awesome wolf tattoo (and the rest of her tattoos) were inked on the actress for an upcoming indie movie titled "Huntsville."
During the interview, Turner revealed,
It's not real! And the hair is fake... everything's fake!
Aw, man! But they're so freakin' cool. Why must they be temporary?!
As for her hair, Sophie Turner looks amazing as a blonde but blonde is also her natural hair color, so it makes sense.
We're just so used to redhead Sansa Stark...
Sophie, whether you're a tatted-up badass blonde or not, you look amazing.
But the tattoos could have been a nice touch, just saying...
Regardless, I don't think ANYONE can wait for your appearance in season seven of "Game of Thrones."
Sophie Turner can't wait for season seven either. The actress revealed,
It will be very interesting to see how their relationship develops -- Sansa and John's. Especially now... her knowing that he's not a Stark. It'll be very interesting.
Um, are we there yet?!
Citations: Sophie Turner Sadly Reveals That Wolf Tattoo Isn't 'Game of Thrones'-Related or Even Real (Entertainment Tonight)